FEATURES FOR 360 FEEDBACK SURVEYS
Review Performance, Assess Employees, Scale Your Business
Robust features to encourage compliance and protect employee data whilst collecting actionable feedback.
Compliant contact management
Import employees to the CRM, group them based on role or seniority, and track the lawful basis for processing their data (e.g. Contract).
Detailed 360 reports
Review 360-degree feedback in real time with automated reporting and share results with stakeholders with a single click.
Anonymous responses
All responses are anonymous by default, encouraging open and honest 360 feedback from peers and managers.
Create review segments
Segment reports into self-assessments, peer reviews, and manager feedback with flexible filters, and compare results from each group.
Brand surveys & emails
Add your logo and customize the designs of 360 surveys and email invitations to align with your brand guidelines.
Pseudonymize responses
Separate personal information from 360 feedback in order to track who's responded, whilst keeping those responses anonymous.
Improve employee performance with 360-degree feedback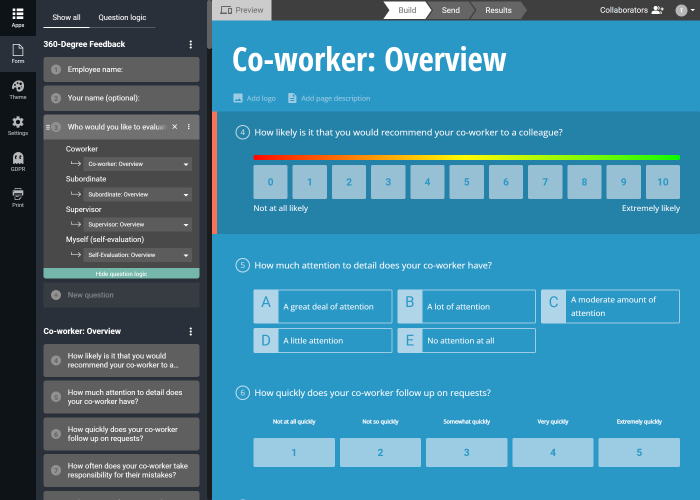 Deliver tailored feedback with 360 reports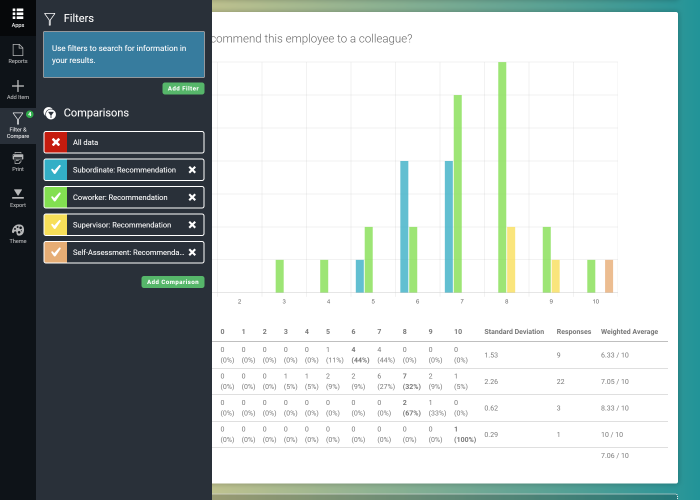 Compliance built in, for teams of any size
Collect omnidirectional feedback to turn your employees into superstars and revolutionize your business.
An integrated CRM, for managing employees and collecting feedback
Import your colleagues to your CRM and group them based on department, role, and seniority. Send 360 assessments to the top of their inbox.
Collaborate with your team, to streamline performance reviews
Choose a plan geared for teams of all sizes, create 360-degree surveys together, and analyze employee reviews as a team.
Collect data without having to worry about your compliance
Shout is a cookieless survey tool, and all data anonymous by default. Track lawful basis for processing employee data and record consent.
Level up your employees today
Start collecting 360-degree feedback and improving your company culture with Shout's intuitive tools.
360 Feedback FAQs
Everything you need to know about 360-degree feedback surveys and how they can help you improve employee performance.
360 surveys are an effective feedback tool that provides team members with constructive and unbiased reviews. It aims to develop skills and behaviours in the workplace by identifying strengths and weaknesses.

The goal is not to criticise an individual on what they do wrong. It is to endorse their strengths and highlight areas for improvement.
360-degree feedback should address the entirety of an employee's role. E.g. Creative skills, customer interaction, communication and leadership.

They should receive feedback from peers, subordinates, managers and potentially external sources such as customers or investors.

Any events or incidents should be accurately reported. This is to gauge impact in the workplace and whether their behaviour is consistent with organizational goals.
All responses, including the self-reflection, should be collated as an average for the 360 evaluation of the recipient. You should also compare the results of the self-reflection against the larger group to identify the recipient's 'blind-spots'.

Blind-spots are areas where the recipient's self-evaluation differs to that of the reviewers.
360 feedback surveys need to be anonymous to encourage open and honest reviews. These reviews help team members develop their overall performance and provide clear steps to grow their career.

The aim is not to inform promotions, raises or bonuses, but rather to increase productivity and engagement in the workplace.