FEATURES FOR EDUCATION SURVEYS
Collect Staff, Student, and Parent Feedback
Improve course content, measure staff and student satisfaction, inform policy changes, and power academic research.
Integrated CRM
Import students to your CRM, track surveys, monitor engagement rates, and record the lawful basis for processing their data.
Connected forms
Connect forms to your CRM to take attendance, record absences, collect contact information, and register students for courses.
Automated quiz scoring
Engage classrooms with interactive quizzes, and display scores, grades, and customized feedback upon completion.
Departmental collaboration
Invite other department heads or admin staff to join your team, share your features, and collaborate on surveys and results.
Branded designs
Add your institution's logo and customize survey and email designs to align with your brand guidlines.
Separate PII from responses
Enable pseudonymization to store personally identifiable information and survey responses separately in your results.
Tailor made education surveys for any respondent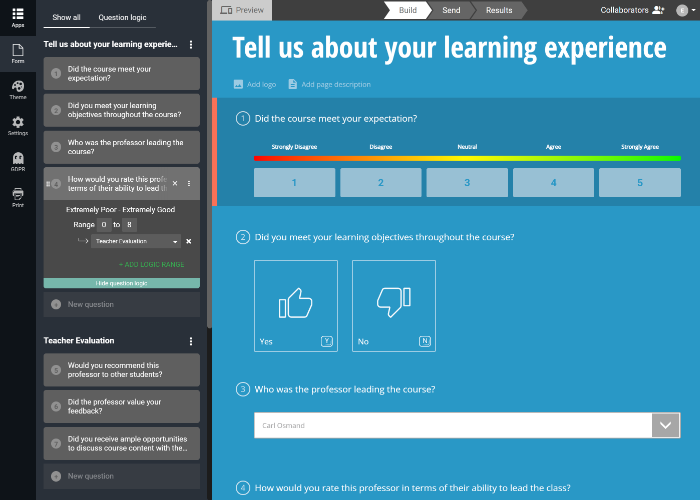 Improve educational outcomes with feedback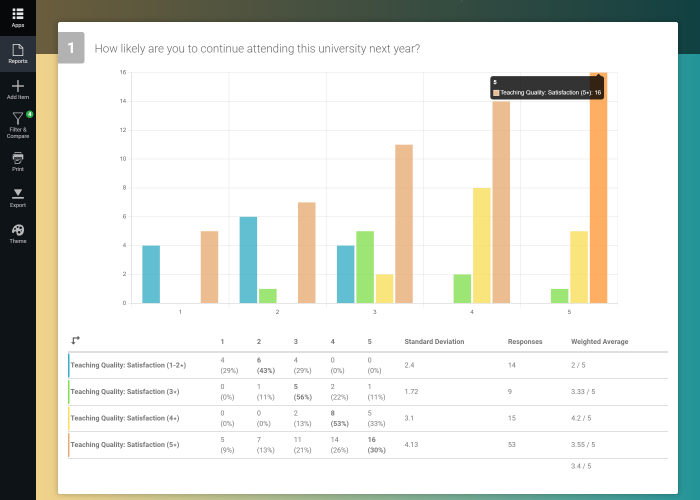 Compliant surveys for schools & universities
At Shout, we take your (and your respondents') privacy seriously. Which is why our app is cookieless and all your surveys are anonymous by default
Store your data on compliant, UK-based, servers
All survey responses are stored in the United Kingdom, which has an adequacy decision with the EU, meaning your data is stored compliantly.
Collect explicit consent from students and parents
Create consent-based contact groups for events, survey campaigns, and trips and collect record consent to contact profiles with forms.
Collect survey data in a secure environment
Shout operates under a zero-trust framework and all our security policies are designed to meet or exceed the GDPR, UK-GDPR, and CCPA.
Improve staff & student satisfaction today
14 Day Free Trial • Cancel Any Time • No Credit Card Required
Benefits of running education surveys
Everything you need to know about education surveys and how they can help you increase staff and student happiness.
Understanding how satisfied students are with the different aspects of their school experience can help you deliver better course content and improve course registration rates.

For the most honest (and therefore, higher quality) data, you should collect student feedback anonymously.

Example student satisfaction questions:

What course are you enrolled on?
What modules have you taken?
How easy was it to register for the course?
How satisfied were you with the amount of coursework given to you this semester?
Do you feel the campus is safe for students?
How satisfied are you with the accessibility to resources (e.g., the library)?
How helpful is your academic advisor?
It's essential that teachers and administrative staff members are satisfied in their roles. By understanding how they feel about work culture, their co-workers, and the support they receive will go a long way in increasing happiness in the workplace.

Example staff satisfaction questions:

Are you happy with your work/ life balance?
Do your managers value your feedback?
Do you feel valued for the work you produce?
Do you feel that the rest of your department shares the same vision as you?
Are students respectful of your time?
Do you have access to resources to help manage your course content?
Do you feel you have amply access to professional development opportunities?
Would you recommend us as a place to work?
Education surveys not only allow you to collect feedback on how useful courses were to students, but also how the delivery aligned with individual learning styles.

Example teacher performance questions:

How knowledgeable was your teacher on the given subject?
How clearly was course material explained?
Was your instructor approachable and receptive to questions about course material?
How well did your teacher answer your questions?
How difficult was the work assigned to you by this instructor?
Were you recommended additional resources to help you?
Develop the skills and behaviours of teachers and administrative staff by conducting 360 reviews. These reviews ask respondents to perform appraisals of themselves, colleagues and managers in regard to their behaviours and attitudes in the workplace.

Example 360 review questions:

Does the employee value your feedback?
Do they demonstrate leadership capabilities in their role?
Are they comfortable asking questions when they do not understand something?
Do they work well with others?
Do they often experience conflict with others?
Does the employee recognise when there is a problem?
Does the employee provide effective solutions to problems?