Streamline team projects​
Reduce the workload of individuals and speed up project run times by collaborating with your team on creation, analysis and contact management.
Protecting your organizations' data​
Ensure that project data is only accessed by relevant team members and remain compliant with the GDPR, UK-GDPR, and CCPA.
Give your team the advantage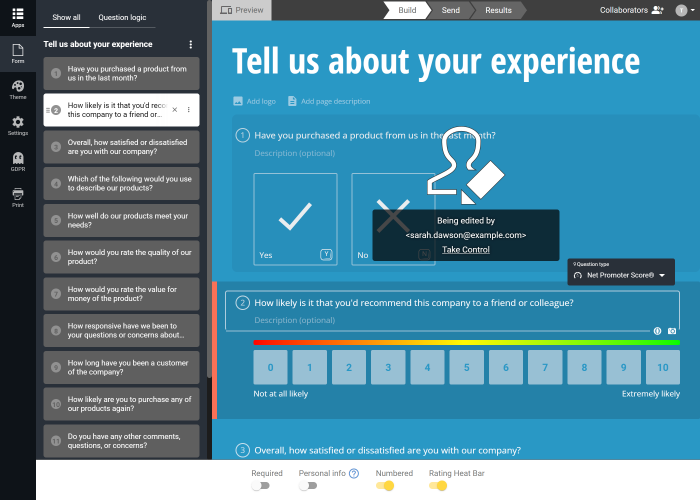 Teams FAQs
Admin users are the primary user for your Shout team, they're responsible for:

• Managing subscriptions and billing
• Taking ownership of data collected by team users
• Inviting and managing team user accounts

Depending on the plan you're subscribed to, Admin's will be able to access team user accounts from their own accounts in the app.

Team users are those invited by admins to join their Shout team. All features of the admin's plan are accessible to team users from the word go.

Projects (surveys, quizzes, and forms) can be shared between all your team members to collaborate on building and analysis.
By default, all user accounts are private. So, no one will be able to see your surveys or data until they are shared via the collaboration features.

Access can be revoked to projects at any time.
The number of team users you'll be able to invite to your Shout team is dependent on the plan you subscribe to:

The Research plan is intended for individuals, so doesn't come with any team users as standard.

The Marketing plan comes with 3 users (1 admin and 2 team users).

The Compliance plan comes with 5 users (1 admin and 4 team users) or 10 users (1 admin and 9 team users).

The Enterprise plan can be configured for 10 users or more, get in touch for a custom quote.
Team users aren't treated any differently in the app. You'll have access to all the features and tools available to your admin and will be able to create as many projects as your heart desires.