FEATURES FOR EVENT SURVEYS
Collect feedback before, during, and after your event
Robust features to encourage compliance and protect employee data whilst collecting actionable feedback.
Manage attendees
Import attendees to our CRM or collect them with forms. Segment contacts to send targeted surveys based on any variable important to your event
Measure event NPS
Ask attendees how likely they are to recommend your event to others with our Net Promoter Score question type.
Benchmark satisfaction
Measure event satisfaction with a recurring survey and use crosstabs to compare results over time.
Streamline with logic
Show questions based on talks attended, menu choices, and anything else you can imagine to personalize your event surveys.
Brand surveys & emails
Add your logo, customize the designs of event surveys and emails, and white label surveys to align with your brand guidelines.
Collect live feedback
Access real time reports to learn what attendees think of your event whilst it's running, and make changes based on live feedback.
Event planning made easy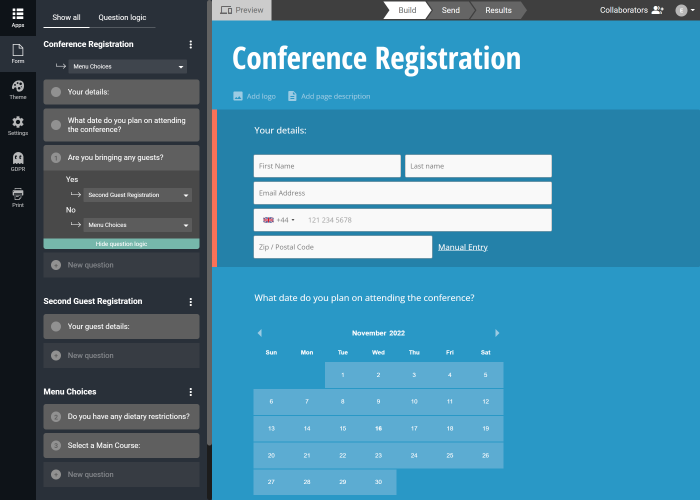 Improve your next event with actionable data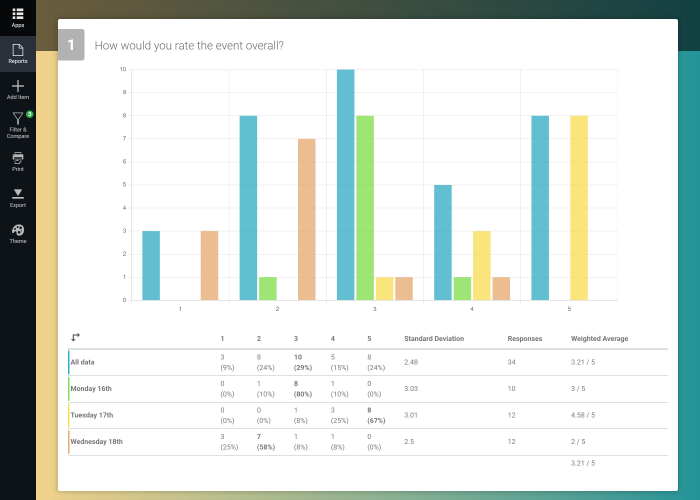 Compliant event management
Shout is a cookieless survey tool, and all responses are anonymous by default. Enabling you to collect event feedback, whilst protecting privacy.
Record explicit consent when collecting event contacts
Connect event forms to contact groups marked for explicit consent, and we'll collect and record consent to contact profiles in your CRM.
Organize contacts based on lawful basis for processing data
Contact groups are tagged with a lawful basis such as Legitimate Interests, Contract, and Public Task, to enable compliant contact management.
Separate attendee personal information from survey responses
Enable pseudonymization to separate any personal information from question data in your reports.
Maximize your attendance with Shout
14 Day Free Trial • Cancel Any Time • No Credit Card Required
Event Surveys FAQs
Everything you need to know about event surveys and how they can help you improve attendee experiences.
Event surveys are a great way to gather feedback and data on events. They can be used to help identify any problems that occurred during an event, learn about attendees' opinions and experiences, and measure how successful an event was. Event surveys can be customized to fit the needs of your organization, and they can be conducted online or in person. Whether you're planning your next public event or just looking for feedback on past events, consider using an event survey tool to get the information you need.
Event surveys can help you identify any problems that occurred during an event, learn about participants' opinions and experiences, and measure how successful an event was. This information can help you improve future events and make sure they're more enjoyable for everyone involved.
There are three types of event surveys you'll need to be aware of: pre-event surveys, mid-event surveys, and post-event surveys.

What are pre-event surveys?

There are two main functions to pre-event surveys; to plan the details of your event and to learn as much as possible about your invitees. Then you can use this information to set KPIs and ensure the event meets the expectations of your guests.

What are mid-event surveys?

Live feedback is essential to making your event a success. During a break, or between events, ask guests to provide some feedback on the event experience so far.

This allows you to measure satisfaction and address and make any off-the-cuff changes. Avoid sending out a mid-event survey during the lunch break, as you're likely to get a low response rate. You should give your attendees that time to rest and prepare for the next half of the event.

What are post-event surveys?

Now your event is done, it's time to highlight its successes and failures with constructive feedback. Get in touch with attendees to find out what they liked, what could use improvement and what didn't meet their expectations.

This information is used to determine your even ROI, measure attendee satisfaction and inform the planning for your next event.
Here are some examples of questions for your event surveys:

Which talks did you attend?
Would you recommend this event to a friend or colleague? (Employee NPS)
How would you improve the event?
Have you attended this event before?
How helpful were event staff?
Are you likely to participate in this event in the future?
What did you enjoy most about the event?
How did you find out about the event?
Were you happy with the time you had for questions?
Did the event meet your expectations?
How satisfied are you with the event overall?