Build lasting relationships with Shout's CRM
Use feedback to create better experiences for your customers, employees, and other stakeholders.
Grow your contact list
Import your existing contact lists and capture leads with forms whilst tracking the lawful basis for processing their data.
Understand your audience
Craft bespoke email invitations and send targeted surveys to learn more about your audience segments.
Inform business decisions
Harness powerful filter and crosstab tools to transform raw survey data into actionable insights for your business.
Full control over your contacts and campaigns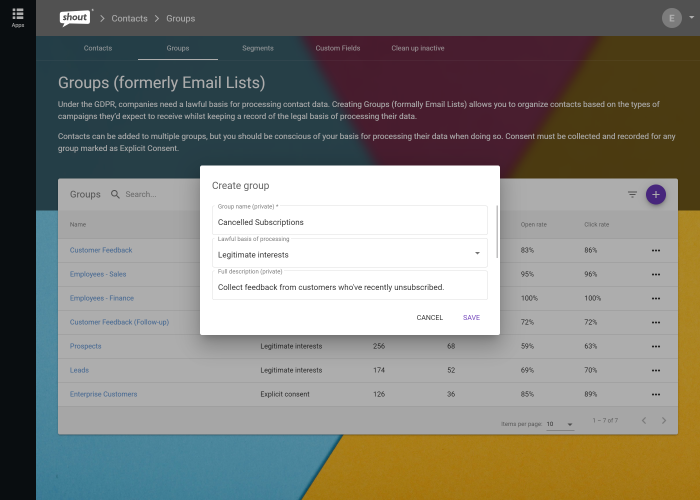 Multiple views of your CRM data
Grow and engage your audience as a team
Privacy-first tools for teams to collaborate on contact management, collecting feedback, and improving experiences.
Invite colleagues to join your Shout team and share the features of your plan. Collaborate on surveys and track performance together.
Never collect the same contact twice with our team CRM
Contacts are shared between all team users, so two users will never have to collect the same contact as each other.
Maintain separate lists, with their own lawful basis for processing
Each team users can manage their own lists built from the shared CRM. Allowing you to assign a relevant lawful basis for your communications.
Ready to improve customer experience?
14 Day Free Trial • No Credit Card Required • Cancel Anytime
CRM FAQs
Yes!

Shout CRM is included with all our plans, and you can even get started with it on your Free Trial. All CRM features will be available across all plans, so you'll be able to import contacts, group, segment, and clean email lists regardless of your subscription.
Shout CRM makes experience management a breeze for team and small businesses. Simply upload your existing contacts and start collecting feedback on their experiences with your company, products and services.

Group contacts as customers, employees and other stakeholders to conduct CX, PX, and EX survey campaigns with the same audience without crossing any wires. SHOUT is a privacy-first platform, meaning all our tools are built with compliance and your data protection in mind.

Segment contacts based on feedback they've given to create even more targeted groups.

Need an example? Imagine you've conducted a Net Promoter Score survey to identify your most loyal customers. You can filter your contacts by those survey responses and create segments for your Promoters, Passives, and Detractors. Allowing you to follow up with targeted surveys to start improving experiences for the latter two.
There's no limit to the number of contacts you can store in the app, so you can continue to grow your email lists without concern.

However, each plan does have a cap for how many email invitations can be sent per month.

• Research: 3000 email invitations per 30 rolling days.

• Marketing: 5000 email invitations per 30 rolling days.

• Compliance: 7000 email invitations per 30 rolling days.

• Enterprise: Get in touch to arrange a bespoke package.
We pride ourselves on the features we provide to ensure all your activity in the app is as compliant as possible with the GDPR, UK-GDPR, and CCPA. Let's get into some of the specific ways we help you do that.

Tracking Lawful Basis for Processing Contact Data

When creating contact groups, you are prompted to assign a lawful basis for processing the data of those contacts. This allows you to record your compliance activities in the app and provide proof to any authority or data subject that may request that information.

These lawful basis include:

• Legitimate Interests
• Consent
• Contract
• Legal Obligation
• Vital Interests
• Public Task

Track and Record Consent

When collecting new contact information with forms that requires the Consent lawful basis for processing data, we'll automatically add a consent question that records consent given to contact profiles.

Cookieless Surveys and Quizzes

By default, all projects you create with Shout are cookieless. Meaning, you don't have to worry about any tracking that isn't set up explicitly by you or your team.

Private Team Dashboards

Inviting colleagues to your Shout team doesn't mean that surveys and quizzes are shared between all users. Team dashboards are private by default, meaning no one has access to data that isn't required to perform their role. And when you do share projects with team users, access can be revoked at any time.

Admin Controls and Access

The primary user in a Shout team is the admin. These users will retain ownership over all data collected by team users, so you don't need to worry about who has ownership if an employee leaves your company. Admins can add and remove team users from the Team dashboard, and purge all data associated with an account.

They will also be able to access team user account from their own to perform audits and provide feedback to their team.