FEATURES FOR EMPLOYEE SATISFACTION SURVEYS
Measure satisfaction, increase productivity, reduce turnover
Robust features to encourage compliance and protect employee data whilst collecting actionable feedback.
Compliant employee CRM
Import employees to the CRM, group them based on role or seniority, and track the lawful basis for processing their data (e.g. Contract).
Measure your eNPS
Ask employees how likely they are to recommend your business as a place to work with our Net Promoter Score question type.
Benchmark satisfaction
Measure employee satisfaction with a recurring survey and use crosstabs to compare results over time.
Department collaboration
Invite other department heads to join your Shout team, share your features, and measure employee satisfaction from their own accounts.
Brand surveys & emails
Add your logo, customize the designs of employee surveys and emails, and white label surveys to align with your brand guidelines.
Automate quiz scoring
Create quizzes to increase engagement, improve job satisfaction with assessments, and onboard new hires with training.
Connect with employees and track interactions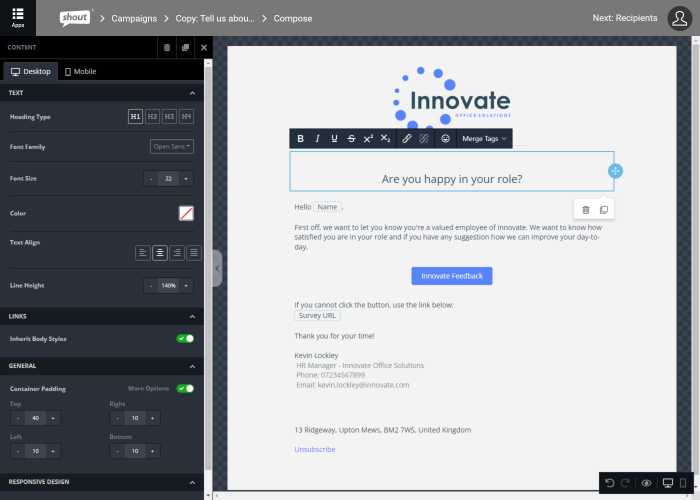 Transform data into employee satisfaction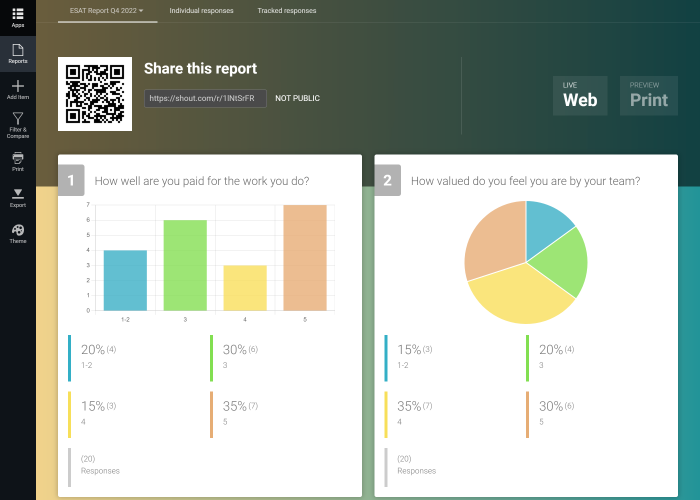 Compliance built in, for teams of any size
Shout is a cookieless survey tool, and all responses are anonymous by default. Enabling you to collect employee feedback, whilst protecting their privacy.
An integrated CRM, for managing employees the compliant way
Group employees based on department, role and seniority, and track the lawful basis for processing their data in the app.
Private accounts for each department, with centralized billing
Team user surveys are private by default, so no one has access to data that isn't relevant to them.
Separate personally identifiable information from survey responses
Enable pseudonymization to separate any personal information from question data in your reports.
Reduce employee turnover with Shout
14 Day Free Trial • Cancel Any Time • No Credit Card Required
Employee Satisfaction FAQs
Everything you need to know about employee satisfaction surveys and how they can help you increase happiness in the workplace.
Employee satisfaction is a key metric in any organization. When employees are satisfied with their work and the company they work for, it leads to a productive and cohesive workplace. In general, employee satisfaction refers to an individual's feelings about his or her own job and the company where they work.

Some elements that may factor into employee satisfaction are:

Work culture.
Manager relationships.
Performance feedback.
Salary.
Work/ life balance.
Deadlines.
The happier an employee is, the more of themselves they'll invest in your company, its mission and goals. High levels of satisfaction often lead to a better quality of customer service and more efficiency in the workplace.

By asking for feedback, you can identify the strengths and weakness of your company culture and improve employee morale and engagement.
When creating an employee satisfaction survey, you must consider the factors that influence their experience. These could include daily tasks, leadership structures, benefits, work environment, the performance of colleagues and managers and opportunities for career development.

Anything that could impact their performance, motivation and commitment to the role should be addressed.

If the results of your staff satisfaction survey show that there is unhappiness or resentment concerning other team members, you may want to consider running 360-degree feedback surveys.
Here are some examples of questions for your employee satisfaction surveys:

Does your manager value you feedback?
Do you feel you have a good work/ life balance?
Is your role clearly defined to you?
Are you satisfied overall with your job?
Does your team provide you support when you need it?
Do you feel rewarded for the work you do?
Do you feel valued in the company?
Do you feel proud to work for the company?