FEATURES FOR MARKET RESEARCH SURVEYS
Make informed decisions with Market Research
Gain insights to improve customer experience and optimize your marketing strategies.
Grow your contact list
Capture leads with forms, record consent, group contacts based any criteria, and track the legal basis for processing their data.
Spot market trends
Use crosstabs and flexible filters to identify patterns and trends in your market research and create multiple reports for custom views of data.
Respondents on demand
Find survey respondents all over the world to power your research and help you make data-driven decisions.
Full brand control
Add logos, customize designs, use a custom domain and white label surveys and emails to remove all Shout branding.
Personalize experiences
Send respondents to relevant questions with logic to decrease dropouts and personalize survey content with merge tags and text piping.
Shout out to your audience
Share your market research surveys via custom email invitations, directly to social media, embed on your website, and more!
Get the answers you need, to scale your business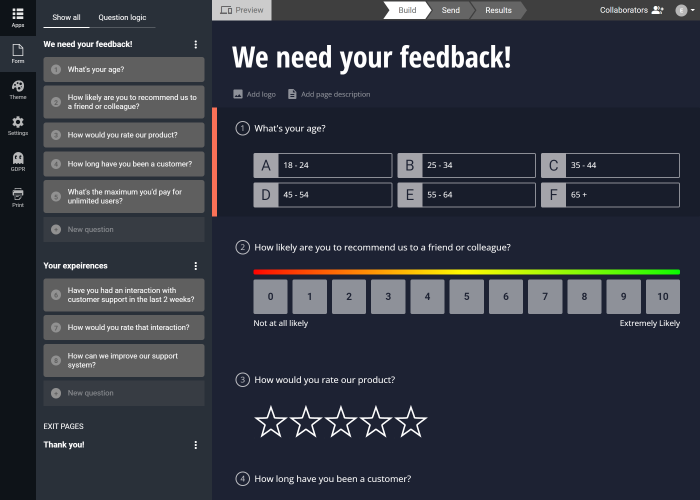 Keep track of your data and monitor performance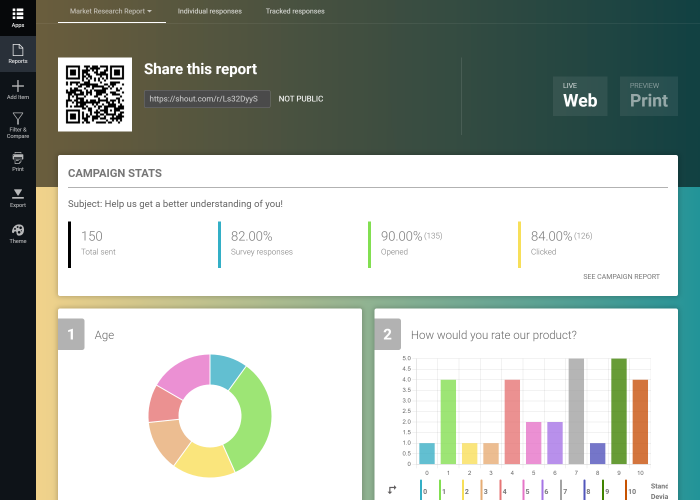 Market research, the compliant way
Shout is a cookieless survey tool, and all responses are anonymous by default. Meaning, we process as little data as possible to ensure you're compliant.
Store contacts based on lawful basis for processing their data
Assign a lawful basis like Consent or Legitimate Interests to groups to make capturing leads and managing contacts as compliant as possible.
Data access controls, for team collaboration
Surveys are private by default, meaning no one has access to data they don't need. But you can share with relevant team members at any time.
Preserve anonymity, even when you're tracking responses
Enable pseudonymization to store PII separately to survey responses, whilst still being able to track responses and grow your contact lists.
Conduct market research with Shout
Create market research surveys with an app that enables collaboration, supports compliance, and encourages customization.
Market Research FAQs
Everything you need to know about market research surveys and how to collect data that improves business strategies and increases revenue.
Market research is a process of acquiring information about consumer preferences, market trends, and buying patterns. It helps businesses understand what consumers want, how they want it, and how much they are willing to pay for it. It can help businesses develop new products and services, improve their marketing efforts, and determine the best way to price their products.

By understanding the market in which a business operates, market researchers can help companies make informed decisions about how to compete and grow.
Whatever your target market is, trends and customer preferences are always changing. Even if you've gotten lucky with blind campaigns in the past, you can't be sure they will in the long run.

Market research enables organizations to make business decisions without guesswork. Whether you're developing a new product or creating a targeted ad campaign, this research provides actionable insights on how to ensure each project is as successful as the last.

Below, we've explored some of the ways you can use market research surveys to broaden your understanding of the marketplace, your customers and potential customers.
Below, we've explored some of the ways you can use market research surveys to broaden your understanding of the marketplace, your customers and potential customers.

Understand your target market.
Measure brand awareness and explore your brand identity.
Product concept tests.
Collect product and website feedback.
Perform competitor research.
Learn more about your existing customers.
Identify frictions and pain-points.
Primary market research involves collecting data straight from the subjects you're studying (i.e., first-party data). Market research surveys would fit into this category, as you're sending your surveys directly to audiences to collect data.

Secondary market research used data from pre-existing sources to inform your strategy, e.g., published research studies.
6 Tips for Market Research Surveys
The first thing you need to decide is what you want to achieve with the market survey. Consider what problem you're trying to solve or what element of your business you're trying to improve.
You don't want to be over-ambitious with the scope of your research. For example, if you're setting out to measure your brand awareness, avoid asking questions about new product or services.
This is a good rule for any survey. We understand the impulse to collect as much data as possible while you've got a respondent's attention. But asking too much will lead to a low completion rate.
You should have an ideal audience in mind to collect the right data and to inform a specific strategy. Write your questions with this audience in mind to optimize data collection and build better relationships.
You'll need to know when you're sending your survey out, how many times you'll send it and when you hope to collect all your data by. The best time to send a survey is between 9-10 am or 2-3 pm.
Running a test survey with a smaller sample size or focus group to identify questions that need to be tweaked to collect higher quality survey data. You can also determine if you've targeted the right audience.