FEATURES FOR CUSTOMER SATISFACTION SURVEYS
Improve Customer Experiences, Build Loyalty, Increase Retention
Collect feedback from your customers to identify your strengths and weaknesses and grow your business as a whole.
Grow your contact list
Capture leads with forms, record consent, group contacts based any criteria, and track the legal basis for processing their data.
Collect and record consent
Collect consent when adding new customers to our CRM and we'll record it for you in their contact profile to ensure you're compliant.
Personalize journeys
Personalize questions and emails with CRM data and create unique journeys through your customer satisfaction survey with question logic.
Full brand control
Add logos, customize designs, use a custom domain and white label surveys and emails to remove all Shout branding.
A/B test surveys
Split test section of text, images, and videos in your survey to determine what performs best with customers.
Identify pain points
Find out where your business can improve its customer experiences using flexible segmentation and crosstab tools in your report.
Transform feedback into revenue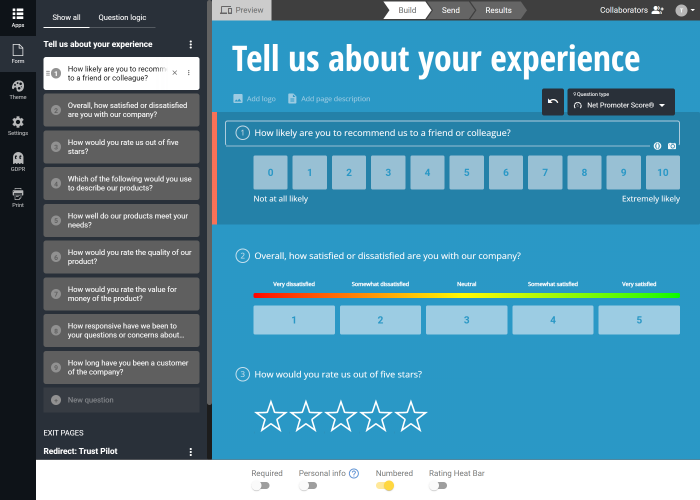 Measure satisfaction in a way that works for you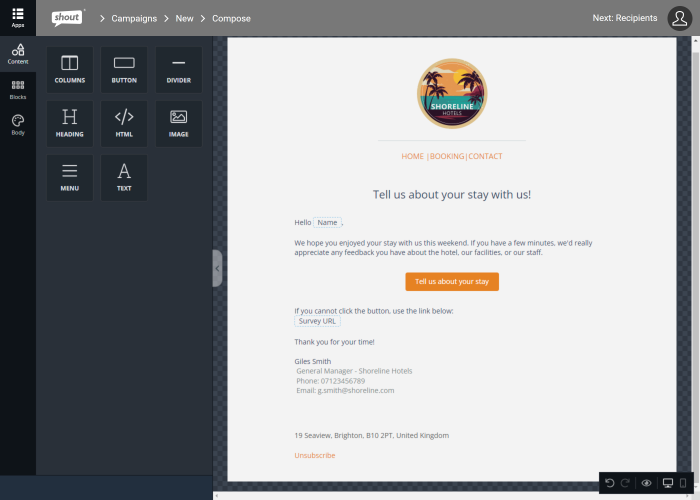 Customers,
Collaboration & Compliance
Shout is a cookieless survey tool, and all responses are anonymous by default. Meaning, we process as little data as possible to ensure you're compliant.
Store and manage contacts, with compliance in mind
Contact groups are assigned a lawful basis for processing contact data and allow you to keep record of why and how that data is processed.
Collaborate as a team, and grow your business together
Invite your colleagues to join your Shout team and collaborate on customer satisfaction surveys and reports in real time.
Pseudonymize data, whilst tracking who's responded
Separate personal information from response data in your reports to maximize compliance, whilst still being able to track responses.
Start improving customer satisfaction today
Create customer satisfaction surveys to collect feedback from the people who matter most to your business.
Customer Satisfaction FAQs
Everything you need to know about customer satisfaction surveys and how to improve customer relationships and increase revenue.
Customer satisfaction is used to measure how happy customers are with your business, products, services, and other factors that relate to their experience with you.

Customer Satisfaction Surveys (CSAT) enable you to measure their satisfaction at touchpoints in their journey with a few simple questions. You should ask about specific experiences or interactions they've had with your company as close to the event as possible for the most accurate data.,
A high level of customer satisfaction will ensure high retention and a low churn rate. On top of this, satisfied customers tend to refer others and create more business for you in the process.

By collecting feedback, you can identify the strengths and weaknesses of your product or service and action changes that increase satisfaction (and therefore return on investment).
It's important to ask for customer feedback at the right time. For example, you could set an automated survey to be sent a week after a purchase has been made. In doing so, your customer has a chance to test your product and is able to provide constructive feedback.

You should also ask for feedback from customers who leave. This is the best opportunity to learn how to win them back and prevent future losses.
You'll want to address all aspect of your business or at least those that influence the customer journey. Identify what they like most and what's caused the most friction in their experience so far.

These could include product quality, prices, customer service staff or even access to information. Whatever can be improved to meet the growing needs of your customer.