Save 52% on advanced features and question types
Looking for a survey tool that won't break the bank but still offers advanced features like Net Promoter Score, Text Piping, and Contact Filtering?
Look no further than Shout, where you can access all of these features and more, and with unlimited responses to boot!
And the best part? Save a whopping 52% more than with Smart Survey, so you can get the functionality you need without sacrificing your budget.
Craft personalised email invitations with any plan
Are you tired of spending a minimum of £60 per month to create email invitations for your surveys?
Shout is a Smart Survey alternative where you get an inbuilt email tool that you can use regardless of which plan you're subscribed to.
Say goodbye to expensive tools and hello to hassle-free, budget-friendly survey invitations with Shout.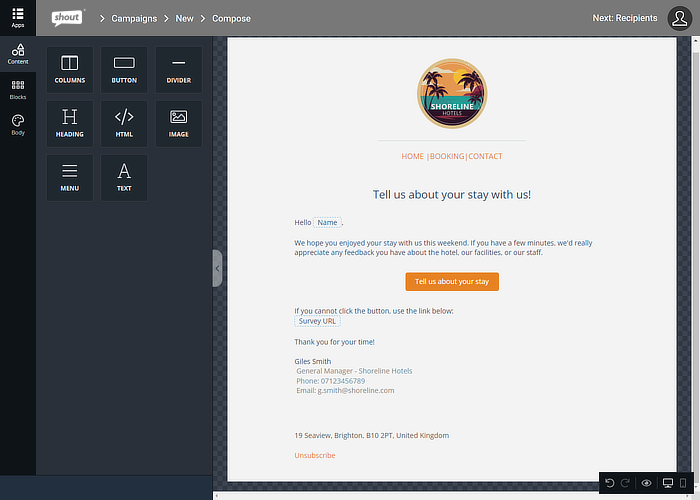 Unlock exclusive compliance features with Shout
Build trust with your audience, keep your data secure, and ensure your compliant with regulations like the GDPR, UK-GDPR, and CCPA.
Pseudonymise PII
Maximize your compliance by separating personally identifiable data from response data in your survey reports.
Record consent
Add a question to forms to collect consent from contacts and record it directly to contact profiles in the CRM.
Maintain compliance
Organize your contacts based on the lawful basis for processing their data, including Legitimate Interests, Consent, and Contract.
DPO information
Enter the contact information of your Data Protection Officer to create a single point of contact for all your team users.
Sign a DPA
Request a copy of our Data Processing Agreement to be reviewed by your team, and we'll sign a copy for your compliance records.
Manage deletion requests
When you delete a contact from the CRM, we'll automatically remove PII that was tracked in survey and email reports.
Shout vs Smart Survey
Choose Shout as a Smart Survey alternative and save up to 67% per year, collect unlimited survey responses, and get more team users as standard.
| Shout vs Typeform | Shout | Typeform |
| --- | --- | --- |
| Responses per month | Unlimited responses | 1000 per month |
| Pro | £25 / month (3 users) | £30 / month (1 user) |
| Business (5 users) | £59 / month | £150 / month |
| Business (10 users) | £99 / month | £300 / month |
Save up to 67% by switching to Shout
14 Day Free Trial • Cancel Anytime • No Credit Card Required