Calculate your Net Promoter Score with SHOUT
Identify your most loyal customers with a single question and collect feedback on how to improve your customer relationships.
Integrated CRM
Import your customers to our CRM, group them based on any variable, and send customizable email invitations for surveys.
One-click NPS question
Drop our tailor-made NPS question type into your surveys and we'll calculate your Net Promoter Score for you.
Target your advocates
Segment your CRM contacts based on whether they were promoters, passives, or detractors and send targeted surveys.
Omnidirectional feedback
Increase response rates by sharing NPS surveys via email, social, website embed, native apps, and on any device.
Brand surveys & emails
Keep your brand in the mind of respondents by adding your logo, customizing designs, and white labelling surveys.
Benchmark your NPS
Conduct recurring NPS surveys with your customers over time and use crosstabs to measure your success.
Do more with your NPS surveys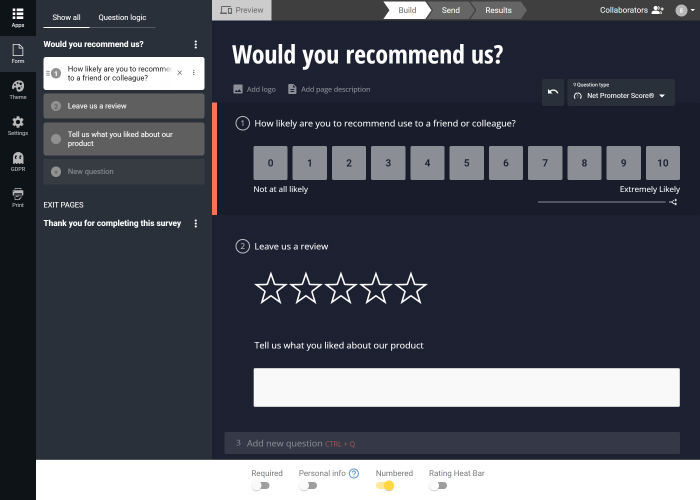 Reduce churn and build loyalty with feedback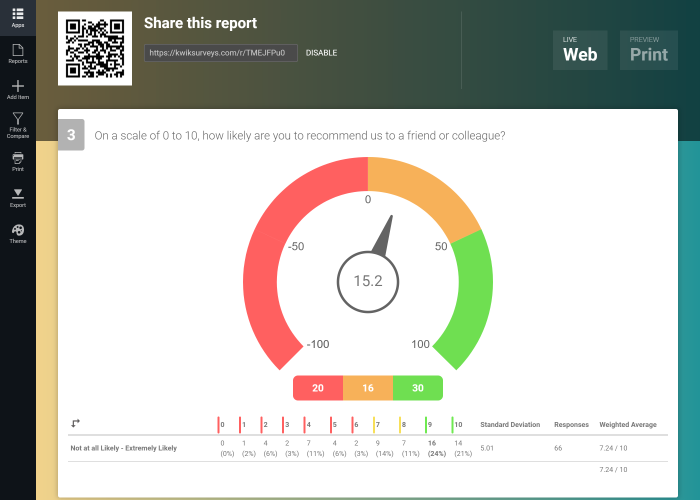 Compliance built in, for teams of any size
At Shout, we take your (and your respondents') privacy seriously. Which is why our app is cookieless and all your surveys are anonymous by default
Manage customer engagements with our compliant CRM
Import your customers and group them based on custom variables and your lawful basis for processing their data (e.g., Legitimate Interests).
Collaborate with your team in a privacy-first environment
All your surveys are private by default, but can be shared with team members to enable collaboration on creating and analyzing surveys.
Store personally identifiable information (PII) and response data separately
Our pseudonymization feature allows you to collect personal information and track responses whilst keeping survey response anonymous.
Ready to increase customer loyalty?
14 Day Free Trial • Cancel Any Time • No Credit Card Required
Net Promoter Score FAQs
Everything you need to know about Net Promoter Score surveys and how they can help you measure customer loyalty.
Net Promoter Score is the standard for measuring customer loyalty, by asking a single question.

What is the NPS question?

"On a scale of 0 to 10, how likely are you to recommend us to a friend or colleague?".

This rating should be taken after a customer's most recent interaction with you to measure their overall brand sentiment against that touch-point. For example, after purchasing a product or service or interacting with your customer support team.

You should also consider asking some open-ended questions in the survey. This will provide some insight on how to improve customer ratings in the next run.
To calculate your Net Promoter Score, you must first discern the percentage total for each customer group (Detractors, Passives and Promoters).

Then subtract the percentage of Detractors from the percentage of Promoters. The number you're left with is your NPS.

Net Promoter Score Formula

Promoters % – Detractors % = NPS

If you conduct NPS surveys with Shout, we'll calculate this for you in your results.
Customer ratings are split into three groups, based on what rating they choose for your NPS question (0-10):

Promoters are the advocates for your business, those who're most likely to recommend you to a friend or colleague.

Passives are on the fence, they like your products or services but don't have a big reason to share them with others.

Detractors are those who've had more negative experiences with your company. It's important that you reach out to these customers to find out how you can repair those relationships and turn them into promoters.

It's important that NPS surveys are sent to both happy customers and unhappy customers. This will ensure there is no bias in your results, and your score isn't artificial.
Your NPS score will be somewhere between -100 and +100. Generally, any score above 0 is considered good, so if you're above this then you're doing things right. Anything above 20 is great, and a score above 50 is excellent.

NPS surveys should be run regularly to measure change over time. You should also benchmark against industry competitors for context.

Once you've calculated your score, it's time to use the open feedback you collected to find out how to can improve customer experiences.