Chasing Outstanding Invoices Without Losing Customer Loyalty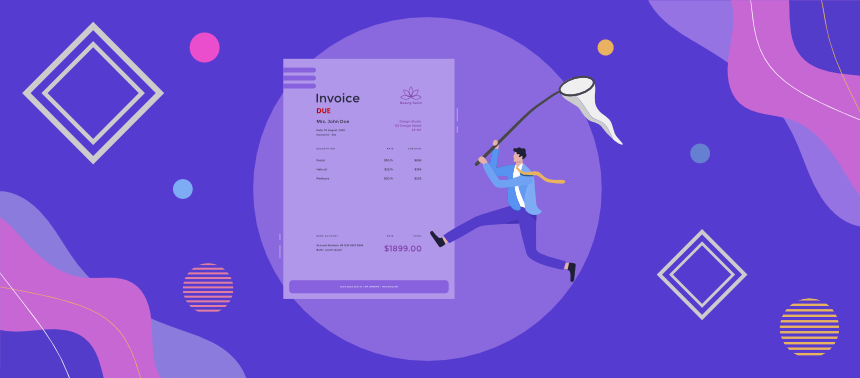 You've been operating as a business for a little while and some outstanding invoices have started to build up. It's easily done when you're focussing on providing an excellent service and maintaining a high level of customer experience.
But chasing overdue invoices and payments can be a daunting task. On one hand, you know customers should have no problem paying for the service you've provided. But on the other, you don't want to taint your brand image by coming off as a loan shark (if you'll excuse the hyperbole).
Thankfully, it's entirely possible to get in touch with a customer about late payments without alienating them. And if you continue gathering customer feedback, you can mitigate any negative effect of chasing invoices and improve your overall customer engagement strategy in the meantime!
Why timely payments are crucial
Even if you've been a business owner for some time, you might still occasionally feel awkward chasing outstanding invoices from clients or customers. These conversations can feel uncomfortable, but you can't afford to let late payments slide.
After all, as ZenBusiness notes, when your customers pay you on time, you can create more accurate projections for your company's future and plan your financial investments for the upcoming months.
You'll find it easier to estimate cash flow and identify what projects require more investment in the future.
Chasing outstanding invoices (in 7 steps)
If you're currently waiting on late payments from your customers, here's how you can collect the funds while maintaining positive relationships with these customers.
1. Send friendly payment reminders
First, it's important to simply remind your customer that they have outstanding payments. You can accomplish this by sending out friendly reminder emails. Ideally, it's best to send out emails like this right after the due date passes without payment.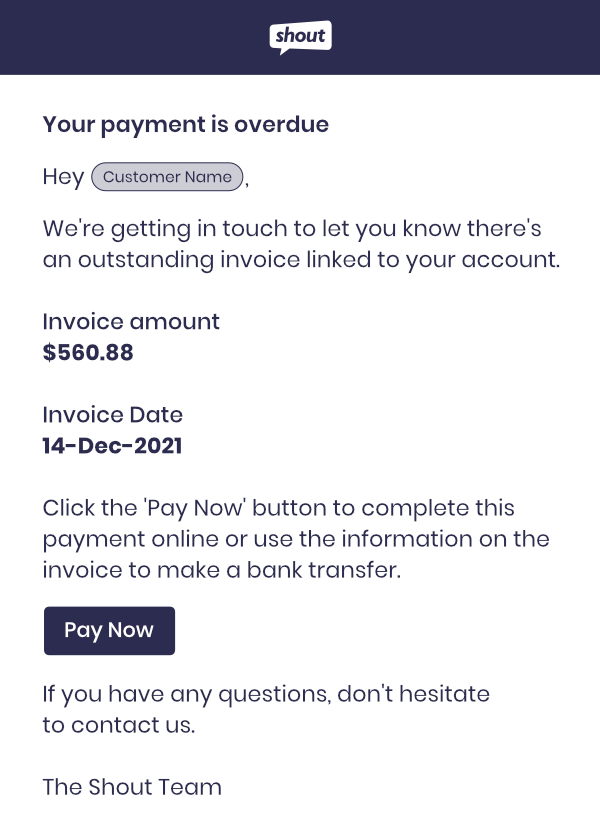 You can include a copy of the due invoice with the email. This gives your customer a chance to address the situation immediately – there's always a chance that the invoice was accidentally deleted or lost, and they might not have realized what happened.
In a scenario like this, they will likely be apologetic and process your invoice as quickly as possible.
2. Get in touch with the payment manager
What if you've sent a couple of reminder emails, but you still haven't received any response? Your emails might not be going to the relevant staff member's inbox.
If you suspect that the employee who handles accounting and invoicing has not seen your invoices and reminders, it's time to get their specific contact information and get in touch with them directly and request payment.
Once they hear from you, they might be able to remedy the situation within a day or two. An email would work fine, but a phone call to the right people would lead to a much quicker resolution.
3. Communicate with kindness
As you communicate with the customer and work to receive the late payment, you might find yourself feeling annoyed or frustrated. This is perfectly understandable, but you do not want to express these emotions to your customer.
Doing so could cause them to take their business elsewhere. Instead, aim to communicate with kindness, even in the midst of stressful situations.
Revechat recommends actively listening if your customer explains their reasoning for the late payment, showing empathy when necessary, and using positive language throughout your conversation.
Rather than criticizing your customer, emphasize the importance of collaborating to come up with a plan for moving forward, which could mean setting a new deadline or creating a custom payment plan. They will be grateful for your flexibility!
4. Utilize outside resources
What if you feel like you've tried every direct method to encourage your customer to make the payments, but they still haven't paid what they owe you? At this point, it may be time to utilize an external organization such as a collections agency in order to handle the rest of the payment process.
As a business owner, you already have a lot on your plate, and there is only so much time you can afford to spend chasing down late payments. By outsourcing this responsibility, you can return to your more pressing responsibilities.
If you've never worked with a collections agency before, you might be confused about how to get started. Collection Agency Match suggests looking for an agency that is licensed in your state and has expertise in your specific industry.
You should also seek out a collections agency that uses communication methods you're personally comfortable with – some agencies might contact debtors through letters, while others might call them on the phone.
5. Consider legal action for outstanding invoices
In the event that you've taken all the above steps to collect payment for outstanding invoices, you may be left with no option but to pursue legal action.
This is the last resort and in no way should be your first port-of-call. But it's an eventuality that you should be prepared for. This process differs from country to country, so we'll direct you to resources for the correct legal procedures for unpaid invoices in the UK and the same for the US.
6. Optimize your invoicing process
What can you do to avoid this situation from occurring again in the future? Now is a good time to review your invoicing process to see if you could implement any improvements.
For instance, have you been creating invoices from scratch with a word processing program and then sending them via email? This means that your invoices could get lost or raise formatting concerns, which can lead to delayed payments.
Instead, you could invest in invoicing software that will keep all of your invoices organized and send out automated reminders.
Here at Shout, we use Chargebee to manage our invoices and for receiving payments. Their accounting system allows us to control all of the above and chase outstanding invoices with customizable reminders.
But, there are plenty of options for accounting software out there for small businesses.
7. Incentivize early payments
This is also a good opportunity to look over your existing payment terms and decide if you should adjust them. For example, should you add late fees into your contracts? Do you want to shorten your allotted payment window from 60 days to 30 days? Which will boost your monthly cash flow and avoid long waiting periods for large payments.
If you want to encourage your customers to pay early in the future, you can incentivize early payments! For instance, you could start offering discounts for early payments. If they know they'll save money, your customers will be eager to pay you ahead of time!
Conclusion: Chasing outstanding invoices and collecting late payments
No business owner enjoys the process of going after late payments. But this is just a necessary duty for entrepreneurs, and it will happen to every business owner eventually.
It does not have to spell out the end of your customer relationships. By following these tips, you can request payments for overdue invoices with ease and encourage timely payments in the future!
This article was written by: Eleanor Wyatt