How to Keep Your Customers Happy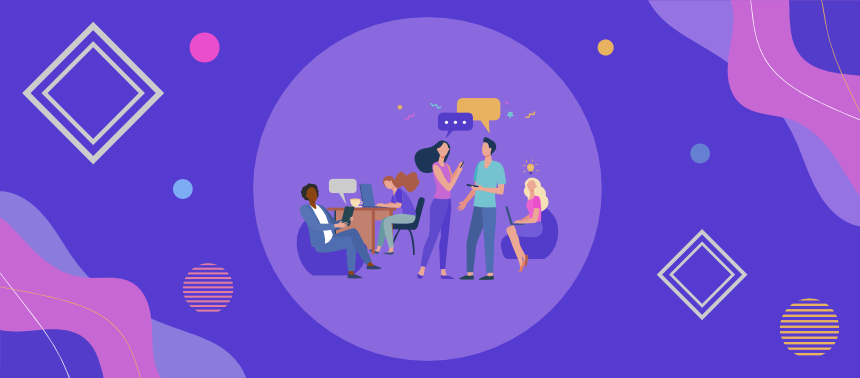 You know first-hand just how busy life is, and the same goes for your customers. High customer satisfaction means repeat business and glowing reviews.
If you're looking to improve experiences and reduce friction, take a look at these tips on how to keep your customers happy.
1. Simplify your website
Whether you sell products or services online or in-store, it's important to create and maintain a high-quality website. ThinkWithGoogle found that over 60% of purchases began online, meaning your website will influence whether you make a sale.
So, it's essential to maximize your brand's visibility in search engines and ensure your website is both accessible and easy to navigate.
This rings true for existing customers as much as it does for prospects. If a customer has a question, it's more than likely that they'll go to your website for answers. If they can't find what they're looking for, they'll need to contact customer support, meaning more time out of their day.
Your website also needs to look good and function the way customers expect. An unreliable site host, slow page speeds, poor website design, and cluttered pages can all have a negative impact on customer experience.
2. Make It mobile-friendly
Between 2018 and 2021 the number of purchases made using mobile devices doubled, now accounting for around 50% of all eCommerce sales.
Because of this fact, it's essential that your website is mobile-friendly to keep your customers happy. But, how do you go about this? Tt should be responsive, meaning all pages should load and function correctly, regardless of the user's device.
You should also ensure that buttons and text are large enough for smaller screens. Here's a great article if you want more tips on how to make a website mobile-friendly.
Usability isn't the only reason to focus on a mobile-friendly design. Google now takes a mobile-first approach to index pages, encouraging all website creators to uphold the same standard for mobile as desktop. If your website isn't optimized for mobile, you could see a drop in rankings (and traffic).
Test-drive it first to ensure nothing looks wacky when you zoom in or scroll. Most content management systems (CMS) will allow you to preview your page in desktop, tablet, and mobile modes, so you can make changes ad hoc.
Then you can use Google's mobile-friendly testing tool to identify any problems with your pages. This tool won't necessarily help you orient your pages for mobile-first indexing, but it will allow you to improve the experience of mobile users.
3. Improve your response time
Nothing is more aggravating than having a question or issue, but not being able to get the help you need. This is an issue many customers face and can leave them with a bad taste regarding your business.
If you have a large enough team, you can increase response times with social media customer service. This also means your customer interactions are in the public view, allowing for others to find answers quickly whilst also promoting your organization as one that cares about its customers.
Consider creating a separate handle for customer support. This will improve efficiency and separate issues from general comments and inquiries.
You can also use live chat, which will show response times and alert you to new conversations.
Other companies like HelpScout also allow you to track Time To Resolution (TTR), a customer service metric that averages the time it takes for support staff to resolve tickets.
A quick response time (and a quick resolution time) will keep your customers happy, making them feel valued and improving their overall customer service experience.
4. Make important info clear
If you notice certain questions keep popping up, put together an FAQ page to enable customers to get the answers they need. This also means you reduce the amount of time spent on responding to customers.
This is also a good place to include your return policy if you are selling merchandise. When questions you have addressed on your website are asked, you can quickly refer them to the FAQ page to save everyone time.
If you're a SaaS business, you may have created help docs for your users. You can refer to the most common searches that still result in a ticket being created to determine what information is missing.
Then as your last line of defence, you must make your contact information readily available.
5. Grow with customers in mind
One of the best ways to build customer loyalty is through communication. Keep them up to date with regular email campaigns and always consult them before making any significant changes.
We also recommend you use surveys to collect customer feedback, demonstrating that you value their opinion and giving you vital data to inform decisions.
You should also create customer satisfaction surveys at least twice a year, to highlight areas for improvement, along with Net Promoter Score surveys to identify your loyal customers.
Another way to demonstrate value is to set up loyalty programs or to acknowledge milestones in the customer journey.
For example, has a customer been with you for a whole year? Show them your gratitude with a personal touch by offering a discount on their next purchase or by gifting them some promotional swag boxes which will help you establish an emotional connection with your long-term customers.
Conclusion: keeping customers happy when they're busy
We live in a world that is constantly on the move and craves the next best (and fastest) thing. Keep your busy customers happy by creating a website that is both simple and mobile-friendly for ease of use on the go.
Increase your response time via social media and customer service apps, and don't underestimate the power of a well-put-together FAQ page.
By streamlining the customer experience, you are putting you and those who matter most to your business on top.
This article was written by: Eleanor Wyatt