Make the Most of Your Customer Experience Survey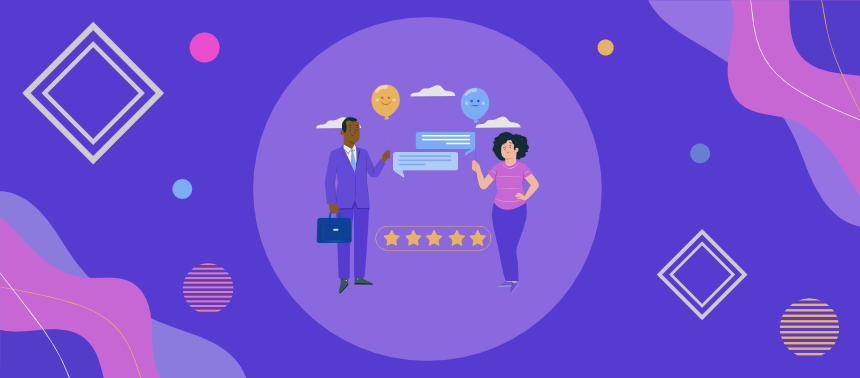 Customer experience surveys allow companies to obtain valuable feedback. However, setting up a data analytics strategy from scratch can be a problem, especially for small businesses. Many don't see customer surveys' actual value or can't take advantage of them.
Optimizing your customer surveys means data-driven decision-making. All you need is to know how to make the most of it. Here's how you can maximize customer experience surveys to get the most value out of every feedback.
What's the difference between customer experience and customer satisfaction?
Customer experience surveys relate to a specific event or touch point that your customers have recently experienced. For example, the product purchase process. Whereas customer satisfaction measure a customers average happiness with your brand in relation to a recent to a series of similar or identical touch points.
This is to say, customer experience surveys provide insight into how your customers feel at a specific point in time about a specific event. Customer satisfaction surveys (CSAT surveys) allow you to benchmark customer attitudes to those experiences over time.
That is to say that you can't ask about more than the most recent experience in customer experience surveys. But, we'll get into this a little more below.
7 Tips for your customer experience survey
We've put together some of our tops tips for creating a customer experience survey, increasing your response rates, and improving customer relationships.
1. Ask about the experience
Most businesses focus their survey questions on the product or service. Customers may be happy or even satisfied with the product, but that doesn't mean they are having a good experience with the brand. Measuring your brand experience is essential in understanding the customers' pulse.
Adding specific questions about how customers perceive your company through the responses will help you unlock valuable insights that will help you improve the overall quality of customer service.
Surveys should ask about the customer journey, not just the most recent interactions. Customers will also remember the frustrating error messages, the delays, and the upsells. In addition to these, they will remember how the customer service agents handled their queries.
We'd also recommend ending these surveys with a Net Promoter Score (NPS) question, which will help you identify your most loyal customers. If you're unsure what an NPS question is, these measure customer loyalty with a single question:
"How likely are you to recommend our product or service to a friend or colleague?".
2. Have a goal in mind
When putting together a customer feedback or analysis program, it's crucial to have a specific goal. Do you want to inform your hiring process? Are you trying to improve the product? Are you looking to solve an issue?
Understanding what problem you want to solve with your survey data allows you to target your analytics efforts towards it. You may not be able to set up a data infrastructure immediately, but you can set measurable goals that you can tackle little by little.
Once you have determined what you want to achieve with a customer outreach program, you are all set to set up an actionable plan. Whether you're looking to develop a better service process or increase revenue, the customer response data you gather will help.
3. Target your survey's audience
Your response rate will vary from industry to industry and geographic location to location. But knowing the audience, you want to reach out to before you set the survey up is incredibly important.
Setting up a survey isn't difficult but choosing the right audience can be time-consuming. Targeting your desired recipients correctly can help you increase response rates and optimize your data analysis.
It's essential to understand the demographics of your customers. For example, a disproportionate number of minorities get surveyed in customer experience surveys, which is especially important for some products.
You can compare the number of complaints and negative feedback to your customer base to identify any demographic discrepancies.
4. Maximize your response rate
Sending out irrelevant emails or making users wait long before seeing the results can discourage the user from completing the survey. While proper customer data management helps, there are many ways to maximize response rates.
Increasing your conversion rate requires balancing minimizing dropouts and providing in-depth information. Your response rate will also depend on the questions you ask.
This is all important, as when it comes to measuring customer satisfaction with experiences, you'll want as much data as possible.
Using open-ended questions and forcing respondents to express themselves takes a lot of energy and time. Unless your business has an army of marketing experts at your disposal, it's best to stick to close-ended questions that only ask for numerical answers.
Ask questions that are brief, easy to answer, and easy to understand. Focus on asking yes or no questions or ranking on a scale of 1 to 10. Doing so increases the probability of getting an accurate response, and you won't have to devote resources to reviewing qualitative opinions.
5. Create personalized responses
Your customers are unique. If you treat them as such, they will likely respond to your customer satisfaction and interaction research. Now, you may not be able to personalize their interactions with your customer service team, but a personalized message can go a long way.
Using marketing automation systems to generate tailored responses to their inquiries is one of the most effective methods for collecting data. Don't forget to personalize your communication based on the channel through which you receive their requests.
You can take advantage of workflows in your business processes to automate your notifications for follow-ups, promotional offers, or other messages.
6. Rely on multiple channels
Some businesses do everything via email; others don't. Not everyone is on social media, so having a dedicated customer support portal or phone number will be more efficient for some.
Email remains the most commonly used tool for communication with customers and prospects, but don't forget that not everyone uses their email inbox. You should consider reaching out through various channels depending on your company, product, and market.
Social media platforms like Twitter and Facebook are great outlets for soliciting community input. The data collected by these mediums are complementary. Online forms allow you to collect structured data from your website. Emails are great for organizing quick feedback and allowing users to participate when they don't have the time.
7. Respect your customer's time
Be as responsive as possible. The faster you respond, the more value you add to the relationship with your prospect. The time it takes to respond to an inquiry depends on the complexity of the question and the number of team members required to review the answer.
A user who sends a simple request should be able to expect a quick reply. One who replies to the complicated one should expect a longer response time. You can also use artificial intelligence to gather and classify large volumes of your customer data.
Incentivizing the completion of your online survey is a great way to boost participant rates. Depending on the business, you can offer an incentive such as a discount, free item, or additional reward.
You can also improve the user experience by making it easier for your customers to provide feedback. You can make it easier by automating your processes, reducing your number of clicks, or using short, simple questionnaires.
Wrapping up
Data obtained through a customer experience survey shouldn't be put to waste. The information you gain through this process is precious.
Optimization is key. You need to understand how your customers want to interact with you, what causes them to delete your emails, and which issues they want to see improved.
Use these steps to set up your optimization plan and get the most out of the insights from your digital marketing campaigns.
This article was written by: Sophia Young