How to Get Product Feedback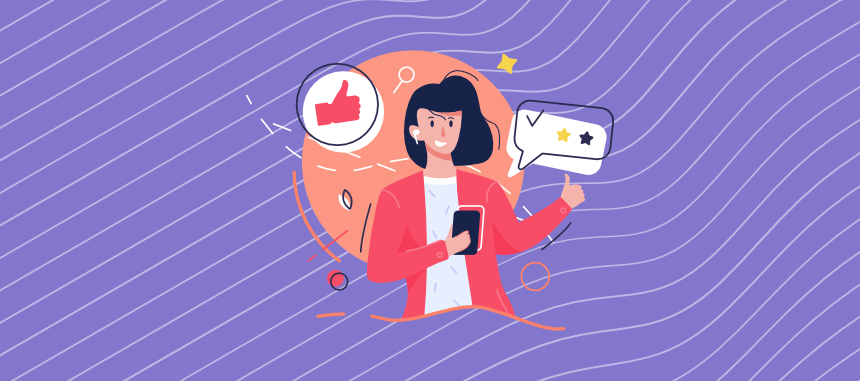 If you're like most business owners, you probably want to know how your customer feel about your products. But getting honest feedback from your customers can be tough – especially if you don't have a process in place.
Fortunately, there are plenty of ways to get product feedback without having to ask your customers directly. In this article, we'll explore some of the most popular methods for getting customer feedback and tell you how to set up a system for collecting it.
What is product feedback?
Simply put, product feedback is the information collected from customers about their experiences with your products. It can be anything from general observations (like "this product is great!") to detailed suggestions for improvements (like "the instructions could be clearer").
There are also lots of ways that you can collect product feedback. Some of these include online surveys and customer panels, but we'll get into this a little more below.
Why is product feedback important?
Product feedback allows you to create better customer experiences, which is essential to improving relationships and increasing retention rates.
But how do they help you create better experiences?
Well, they can provide feedback on:
How customers use your products
What frictions stop customers from having a positive experience
How your product could be improved
What features are missing
Value for money
Ease of use
But, we're only just scratching the surface.
What are the different types of product feedback?
There are a few different types of product feedback that you can collect from your customers.
1. General observations: These are comments that don't specifically refer to the functionality or usability of your product. For example, a customer might say "this product is great" or "I love this app!"
2. Compliments: Compliments are comments that compliment your product in some way. For example, "this product is brilliant" or "that interface is genius!"
3. Suggestions for improvements: These are suggestions for changes to the functionality or usability of your product. For example, "I think it would be helpful if the instructions were a bit clearer" or "I didn't like how the menu bar was positioned – could you change it?"
4. Opinions about your product: These are comments that directly refer to the functionality or usability of your product. For example, "this product is crap" or "I don't like how this works."
How do I get product feedback?
There are a few different ways that you can gather customer feedback for your products. However you deice to go about collecting feedback, you'll want to ensure you collect the names and email addresses of customers who respond.
This will give you the opportunity to reach out once you've implemented changes and strengthen your relationship with them.
1. Surveys
Surveys are a great way to collect general observations, compliments, and suggestions for improvements from your customers. The best thing about surveys is their versatility in how you can collect feedback:
Embedded on your website
Popup in app or in product
QR codes
There's also magic in the kinds of surveys you can use to collect product feedback:
Net Promoter Score (NPS) surveys allow you to measure customer loyalty, but are also a space where you can ask for comments or recommendations for products.
There are also broader customer satisfaction (CSAT) surveys, where you have room to ask for much more in-depth feedback.
Another example would be customer effort score (CES) surveys, which ask customers how difficult it was to complete different tasks in relation to your products, websites, or support.
You'll need to think carefully about the kind of surveys you create, as there can be adverse effects. Long surveys can cause survey fatigue, which can negatively impact your relationships with customers.
2. Focus groups and interviews
Focus groups allow for more controlled and personalized research scenario, as you're feedback comes from a smaller group of subjects. You can find focus groups using online resources, or you can contact local businesses and ask if they would be willing to participate in a focus group.
Of course, you could also use a survey panel (as mentioned above) to target respondents around the world and collect honest and insightful feedback.
3. Customer testimonials
The benefits of customer testimonials are two-fold. Firstly, you can collect positive product feedback that lets you know you're on the right track.
Secondly, customer testimonials are a powerful marketing tool that act as social proof to prospects and leads.
If you're not sure where to start, here are a few ways you can collect customer testimonials:
Check your support tickets for positive experiences.
Ask your longest serving customers.
Take a look at review sites like Yelp, G2, and Capterra.
Use NPS surveys to identify your advocates.
4. Forums
Forums give you access to a much larger community of people who may have had experience with your product. If you have a forum set up for your customers, this is the best place to start when collecting product feedback.
But don't fret if you don't have your own forum, there are plenty of general communities you can go to.
Forum sites like Reddit and Quora have an abundance of users who are passionate about a variety of topics. Simply search your product or brand name, or start a thread asking for feedback.
5. Customer support
We've already mentioned your customer support system as a resource for collecting customer testimonials, but it's also an accessible source of product feedback.
There are a few ways you can go about this.
Firstly, ask your customer support team to share product feedback surveys with customers willing to contribute by email or in a live chat.
Secondly, take a look at the most asked questions or common complaints in your help desk software. We use HelpScout, which gives an overview of the above and also what our most searched for and read help docs are.
You can then conclude what about your product needs to be addressed to improve customer experiences.
6. Customer reviews
Similarly to testimonials, customer reviews are another excellent source of customer feedback. They can provide less detail, but often include both the Pros and Cons on a customer's experience.
You can find customer reviews on websites like Yelp and Google, or you can contact local businesses and ask if they would be willing to contribute customer reviews.
Try getting in touch with customers who've left a review on these third-party sites for more information (and to try improve their experience).
7. Social media
You'll have a whole host of customers who follow you on Twitter, Facebook and LinkedIn to tap into. If you only have a single question to ask, post that to your social profile and wait for feedback to roll in.
If you have more than one question, we'd recommend creating a product feedback survey and then sharing the link with your followers. This will make it easier to collect and store all the answers to your questions in one place.
8. Involve your team
Product feedback doesn't just have to come from customers, your team members will also have valuable comments about your products.
You could do this as part of a team meeting, or simply create a survey and share it with team members by email or with QR codes placed around the office.
Now that you know how to get product feedback, it's time to set up your system for collecting it. Here are four steps that will help you get started:
When can you collect product feedback?
Products and services are now so diverse that product feedback can apply to a lot of things.
1. Post-purchase
Collecting feedback after a customer has made a first-time purchase of renewal can give you essential insight into why they've chosen your product (or why they've chosen to stay).
This is the time where these reasons will be strongest in their mind, and you'll want to take advantaged of that.
2. End of free trial
During the trial phase, leads will be looking at every feature and tool you have on offer and putting them under the microscope.
Asking for feedback at the end of a free trial will give you an understanding of what factors into their decision making.
3. Cancellation
We don't need to tell you that it's important to know why is customer is leaving. When they cancel a subscription or they don't show interest in a product that's perfect for them, you need to find out what's happened.
4. Abandoned carts
Abandoned carts are a fantastic way of identifying key frictions with customers, those final thoughts that stop them from making a purchase.
Gathering product feedback at this milestone allows you to remove that friction and convert more leads into customers.
5. After onboarding
Similarly to free trials, customer onboarding allows leads to critically analyze your product before making a decision. The best thing about the is that your customer support or onboarding agent can ask for feedback at the tail end of the session.
6. Feature satisfaction
You should be collecting product feedback on your current features, and especially in the days following the deployment of a new feature.
Doing so will give you an idea of how these features are being used and whether there is a enough information available on them.
7. Feature requests
These are a huge indicator for what your customers think is missing from your product, and so naturally should be taken seriously.
However, they're also a sign that your customers want to stick around. Think about it, they could easily find a competitor who already offers that feature.
So make sure to thank them for their suggestion and deliver on it as soon as possible.
8. Product usability
This is a extremely important factor for ensuring good customer experiences. You can ask customers for this feedback at anytime with a user experience survey.
Just don't wait too long to ask, you want your product to be fresh in their mind when giving feedback.
How to analyze product feedback
Once you've collected product feedback, it'll be time to analyze all your data. This involves tracking which products receive the most compliments, suggestions for improvements, and opinions about your product.
This information can help you to improve your products and increase customer engagement.
1. Look at the data
The first step is to look at the data. This means taking all of the information that you've gathered and compiling it into a report. You'll want to look at things like:
How many people gave feedback?
What percentage of feedback was positive/ negative.
What was the most common issue that customers raised?
Where do your customers feel your strongest points are?
What makes your product stand out from your competitors?
What distribution method collected the most feedback? (e.g., email, web form, customer support)
2. Look for patterns and trends
Once you have all of the data in front of you, it's worth looking for patterns and trends. This will help you understand where your weaknesses are and how you can improve them.
This is easy to achieve with quantitative data, as you can use filters and comparisons to create these views.
If you've asked open-ended questions, you'll need to find a create way of analyzing qualitative feedback.
3. Decide on a strategy
After you've analyzed the data and found patterns and trends, it's time to come up with a strategy. This will involve figuring out what you need to do in order to improve your product.
It's important to open a line of communication with the customers who gave you feedback. Let them know they've been heard and you're working on the improvements they've recommended.
4. Implement the strategy
Once you've come up with a strategy, it's time to implement it. This means taking all of the data that you've gathered and putting it into practice. You'll want to make sure that you're doing everything possible to improve your product.
Wrapping up
Gathering product feedback is an important part of your product development process. By analyzing all of the data that you've collected, you'll be able to improve your product and increase customer engagement.