25 Hotel Survey Questions to Improve Guest Satisfaction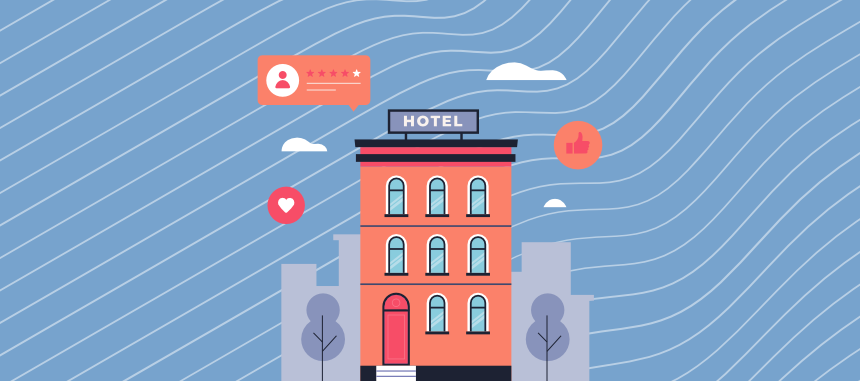 Conducting surveys in the hotel industry is invaluable for gaining insights into guest experiences and improving guest satisfaction.
In this article, we'll provide a range of hotel survey questions to help you gather valuable feedback from your guests.
What are hotel guest surveys?
Hotel guest surveys are the secret sauce of the hospitality industry, the behind-the-scenes magic that turns a good hotel into a great one.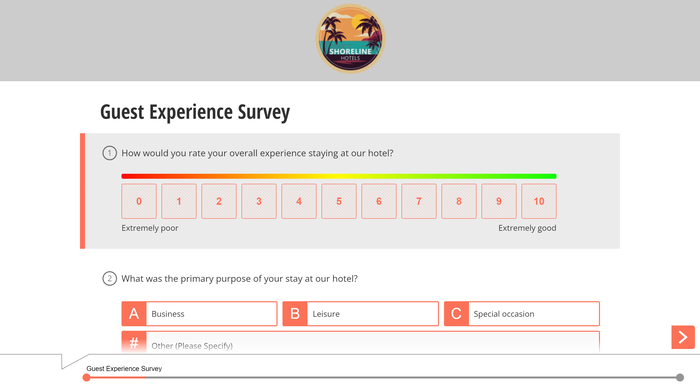 Imagine a tool that lets you peek into the minds of your guests, discovering their likes and dislikes, all while sipping a cup of coffee in the comfort of your office.
They can help you achieve important goals for your hotel:
Gauge and enhance guest satisfaction
Identify areas for improvement
Personalize guest experiences
Enhance customer services
Monitor patterns and trends
Build guest loyalty
In essence, hotel guest surveys allow you to shape your services and experiences to create a win-win situation for both your guests and your business.
Hotel survey questions
To help give you an idea of the kind of hotel survey questions you should be asking guests, here are some general examples:
How would you rate your overall experience staying at our hotel?
What aspects of our hotel services could we improve?
Please rate the cleanliness of your hotel room.
How would you rate our food and beverage offerings?
Were you satisfied with the reservation process?
How likely are you to recommend our hotel to a friend or colleague?
Did you experience any issues during the check-out process?
If you had any specific requests during your stay, were they adequately accommodated by our staff?
Please rate the quality of food and beverages offered at our hotel.
Were there any specific aspects of your stay that exceeded your expectations?
Questions to learn more about your guests
These hotel survey questions provide insights into why guests choose your hotel, their preferences, and how they found you.
What was the primary purpose of your stay at our hotel?
How did you hear about our hotel and decide to book with us?
What are your preferred amenities or services when choosing a hotel for your stay?
What factors influenced your decision to choose our hotel over others in the area?
Would you be interested in receiving occasional email updates and exclusive offers from our hotel in the future?
Hotel amenities questions
We know that every hotel is different, so you'll have different amenities available to guests. But, simply chop and change what amenities you provide into the below questions.
Which of the following hotel amenities did you use during your stay? (list amenities)
How satisfied were you with the availability and quality of our fitness center and its equipment?
How would you rate your experience with our on-site restaurant's food and service?
Did you have the opportunity to use our spa facilities or services during your stay?
Were you satisfied with the availability and speed of our Wi-Fi?
Customer service and staff interaction questions
Hotel staff are on the front line of ensuring excellent customer satisfaction. So, it's important you have questions dedicated to how your staff interact with guests.
How would you rate the courtesy and friendliness of our staff during your stay?
Were there any specific staff members who stood out for their exceptional service? If so, please provide their names and share your experience with them.
Did the staff respond promptly and effectively to your requests or concerns during your stay?
Please share any comments about our staff's performance.
How satisfied were you with the overall customer service experience at our hotel?
How do you ask ask guests for feedback in the hotel industry?
There are a multitude of ways you can ask for feedback from hotel guests, including:
Post-stay email surveys
One common approach is to send email surveys to guests shortly after their stay. Using an online survey maker gives you a great deal of control over the design and branding of your guest survey.
The other benefit is that all the data is compiled for you in digital reports, where (depending on the provider you choose) tools for analysing data.
With Shout, you can upload your contacts to our integrated CRM, create email invitations, and even send reminders to those yet to respond.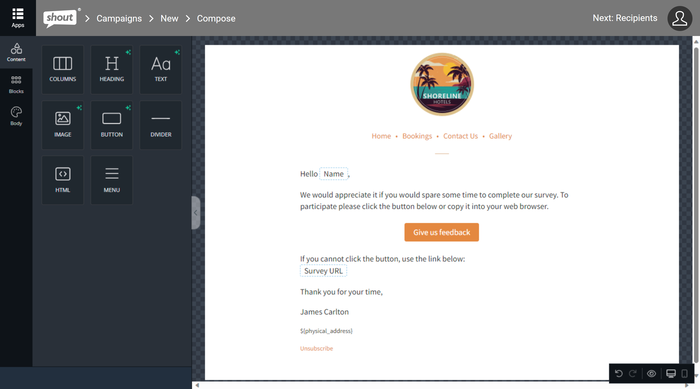 You'll have full control over designs, choose between traditional and conversational surveys, and access to filtering and comparison tools in your survey reports.
QR codes
Placing QR codes in prominent locations, such as reception desks, guest rooms, or restaurant menus, is a convenient way to encourage guests to provide feedback.
When scanned with a smartphone, the QR code can direct guests to an online survey where they can share their thoughts. This method leverages technology and makes it easy for guests to participate.
Paper surveys
Traditional paper surveys are still used in some hotels. These surveys can be placed in guest rooms, handed out at the front desk, or left in common areas.
While less common in the digital age, some guests may prefer the tactile experience of filling out a physical survey.
Tablet or kiosk surveys
Some hotels have introduced tablets or kiosks in common areas where guests can complete surveys on the spot.
These interactive surveys can capture immediate feedback while it's still fresh in the guest's mind.
In-person interviews
For more in-depth feedback, especially for special occasions or events, hotels may conduct in-person interviews with guests during their stay. This approach can provide rich qualitative data but may be more resource-intensive.
To maximize the effectiveness of these methods, it's important to keep surveys concise, user-friendly, and mobile-responsive.
Additionally, it's crucial to assure guests that their feedback will be used to improve the quality of their future stays.
Wrapping up: Hotel survey questions to improve guest satisfaction
Collecting guest feedback with hotel survey questions is the cornerstone of elevating the hospitality industry.
By leveraging a variety of survey methods, including online surveys, hotels can tap into valuable insights.
These insights not only enhance the guest experience but also empower hotels to continually refine their services, exceed expectations, and build lasting guest loyalty.
With feedback channels ranging from email surveys to QR codes, hotels can adapt and improve in a rapidly changing world, ultimately ensuring memorable and satisfying stays for every guest.