Customer Communication: 3 Strategies for Success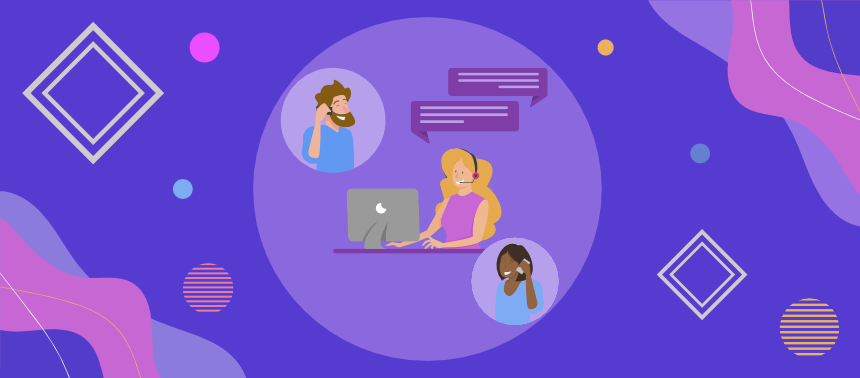 What makes your business stand out within your competitive landscape in the eyes of your consumers? More often than not, winning over shoppers in 2020 relies on more than delivering a great product or service. It's about meeting customer expectations.
Wider access to the internet enables users to spend more time researching brands comparing price points. Meaning, brands are in constant competition with each other in the digital space. This access also implies that prospects and customers demand a quicker
By the end of this year, customer experience will completely eclipse price and product as the decisive factor between competitors. Marking a major swing in the pendulum of strategies organizations use to retain their customer base.
Customer communication and experience
So much of successful customer experience, or CX, hinges on your communication with buyers. From the types of communication channels you use to the overall delivery of your conversations.
And since 91% of consumers are prone to seeking business elsewhere after a single poor customer service conversation. Having a poor communication strategy, or no strategy at all, isn't an option for businesses that want to survive.
Unfortunately, staying up-to-date with every inquiry proves to be more challenging than it may sound.
Today's consumers have a wide variety of communication options at their disposal. Which can limit your bandwidth and the resources you're able to devote to each channel.
On top of their brick-and-mortar interactions with customers, companies now must contend on a digital frontier. A majority of buyers on the market (57%, to be precise) prefer to contact businesses through digital mediums. Such as chat widgets on websites (in real-time with real people), social media and email.
Digital communication channels
As customers become more proficient with technology, digitized communication will become the new norm for CX design. Neglecting your virtual communication platforms in the future will only become increasingly detrimental.
So, what is the solution for organizations that do not have the workforce to manage multiple customer communication channels?
By leaning on customer-centric innovations and technologies. These new solutions let you revamp your workspaces to streamline your approach to customer communications and drive higher satisfaction rates
Strategy 1: Provide omnichannel support
Support teams have developed a new strategy to give customers an abundance of options to reach out with their inquiries.
Many businesses have integrated new technologies to develop omnichannel customer experiences. This has helped revitalize their:
Sales
Marketing
Product development
Customer support
What is omnichannel customer experience?
Omnichannel is defined as a customer support strategy that provides seamless interactions across all types of platforms (digital and physical).
The underlying concept behind omnichannel is that people should be able to intuitively engage with your brand, regardless of their preferences.
Perhaps this means your shoppers begin a conversation with your social accounts before purchasing in person.
Alternatively, your customers may jump from your help docs to email to phone calls as they try to resolve an issue. Regardless, successful omnichannel requires companies to host multiple communication paths to continue dialogues with audiences.
Omnichannel technology
The growing adoption of omnichannel corresponds with the new methods that shoppers use to communicate. Two-thirds of consumers opt for at least three communication channels to get in touch with your support teams.
And addressing multiple channels at once can become time-consuming.
That's where omnichannel integrated technology comes into play. Contact centres with omnichannel support, for example, can build on the already established features of a call network.
They do this by enabling users to address all their communications through a single, unified platform. Including:
Calls
Social media messages
SMS texts
Live chat
This provides your customers and service agents alike with a seamless transition from one channel to the next.
Strategy 2: Personalize individual conversations
Your company can stand out in the crowd by leveraging technology to make each customer interaction unique.
Research conducted by Epsilon reports that four out of five consumers are more likely to purchase from brands that personalize CX. Not only can it help you convert prospects, but also aid in increasing customer retention.
91% of shoppers are more inclined to do business with brands that pitch them other relevant products. However, these should be based on their search history, previous purchases and buyer behaviors.
Identifying customer touchpoints
It can be difficult for those in charge of customer communications to discover the most efficient method to develop personalized touchpoints.
How do you foster a customer's emotional attachment to your brand? (Without extending hold times or saddling your support teams with extra work.)
If you're a smaller business, personalized CX might be more easily achievable, or at the least more feasible. For larger or growing companies, however, personalization at scale only becomes more challenging with each new sale.
Artificial intelligence as a customer communication tool
A proven method for personalization that reduces workload is by using your existing customer information. You may have always had access to your historical data, but its sheer volume makes it too demanding of a task.
Artificial intelligence software for personalization helps you develop insights around individual shopper experiences.
Many AI-driven software options offer personalization opportunities at multiple touchpoints. For example: highlighting more products that may interest a customer during and after a purchase.
Allowing artificial intelligence to optimize your data set helps ensure customers are engaging with your business within the most relevant way.
Strategy 3: Rely on customer feedback touchpoints
Perhaps no aspect of customer communication is as essential as listening. Contrary to popular public sentiments, people like to be asked for their opinions from brands that they care about. Customers want to feel valued, that their opinions and suggestions matter to your business.
Customer reviews also have the potential to boost sales among those who research your company before making a purchase.
As high as 91% of people read online reviews of brands, and 84% trust them equally to a personal recommendation.
Acting on customer feedback
At the same time, one of the greatest customer pain-points is feeling their input remains completely ignored or unused.
Half of all shoppers believe their feedback is never received by someone who can enact any sort of meaningful change.
When left to fester, these sentiments can spur a complete breakdown in communication between producer and consumer. After all, who would take the time to share their thoughts if they believed their thoughts would go unnoticed?
Using surveys as a customer communication tool
The key to acquiring candid feedback from your audience lies in your ability to express your appreciation for all customer feedback.
Customer satisfaction surveys are designed to place your customers at the center of your business. Allowing for their voices to be heard and for you to make informed decisions.
These platforms help you ask the right questions and reinforce your findings with concrete data. Helping you understand the best approach for enhancing your customer relationships.
By strategically placing feedback opportunities at customer touchpoints, you can visualize recommendations along the customer journey. Allowing you to build a comprehensive strategy for improving customer experience.
Using the technology available to your business, you can build a fully realized method to communicate effectively with customers.
Learning how to best to communicate is the first step to keeping customers happy. But to create truly great customer service, you must be willing to act on that feedback.