Release Notes: New and Improved Survey Builder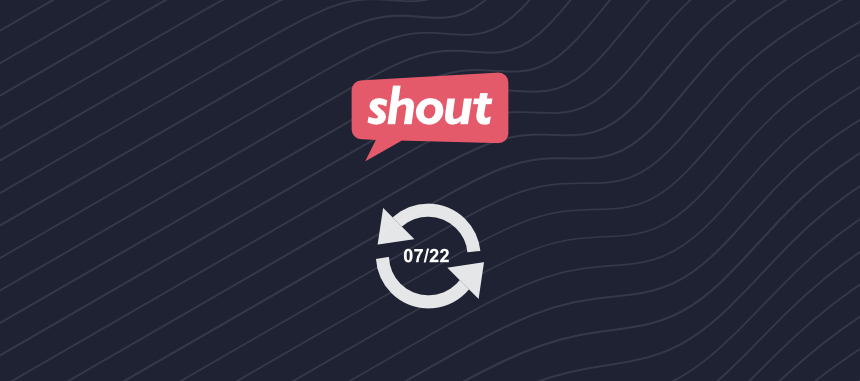 After we released the new contact management and email builder tools in March, we decided to update and improve some of the existing tools on Shout to give you a better experience.
What's new?
Let's begin with all the new features and changes brought to you in this update.
New and improved survey builder
Now that we've added more features and layers to the app, we want to streamline some existing processes.
The first port-of-call for this was our survey builder. The classic drag-and-drop builder has been replaced with a more intuitive build menu.
This is where our new Form tab comes into play.
Form tab
We've consolidated a lot of our existing features under the form tab to streamline the survey building process.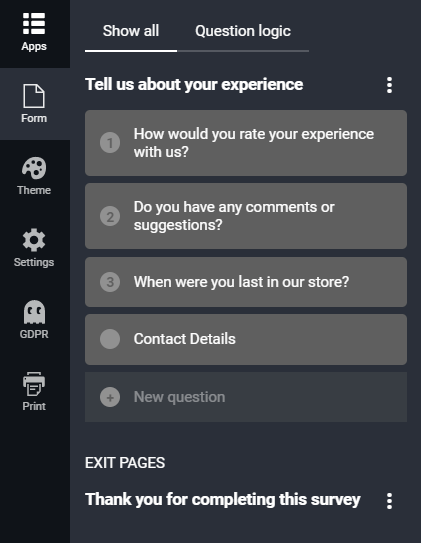 From the Form tab you now add and manage:
Questions
Pages (both Question and Exit pages)
We'll get into these changes below, but you'll now be using the Form tab to manage the majority of your survey's content and flow.
Improved UI
We've reduced the size of the form top bar, to improve your experiences regardless of what device you're using.
The Form Preview feature has also been moved into the top bar, along with the 'Add collaborators' button.
You'll see that we've hidden the page description field by default, you can add this back in by clicking 'Add page description' below the page title.
Next to this, you can use the 'Add logo' button to add your logo to the top of the form. The position of your logo is determined by the survey theme you're using.
Keyboard shortcuts
We've also introduced a few keyboard shortcuts to enable you to build surveys quickly and easily.
Press CTRL + Q to add a blank question to your survey. Then, enter some question text and our A.I. question prediction tool will select the best question type for you. Alternatively, click the dropdown to manually select a question type from the library.
If you select a Multiple-Choice question type, you can then use the TAB or ENTER key to add new answer options.
What's changed?
Now, let's take a look at some of the features or settings that have changed or moved in the app.
Add questions to your survey
Instead of dragging and dropping questions into the survey builder, you can now add and manage questions in the Form Tab.
Click the '+ new question' button to open the question type library. From here you simply select a question type to add it to your survey or quiz.
Hovering over these question types will display an image and description for it.
Reordering questions
Change the order of questions in your survey by dragging and dropping them into place in the Form tab.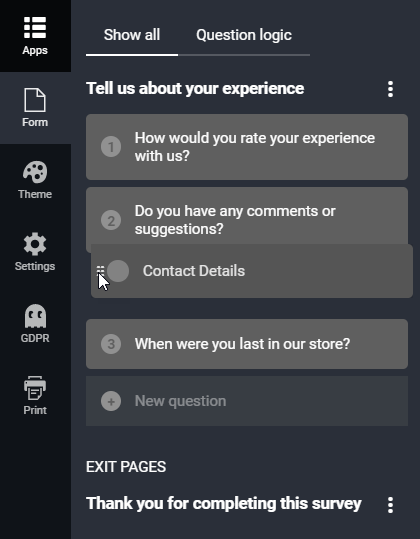 This saves you from scrolling through your survey or moving between pages to find a question.
Adding and managing survey pages
All pages (and questions on those pages) are displayed in the Form tab.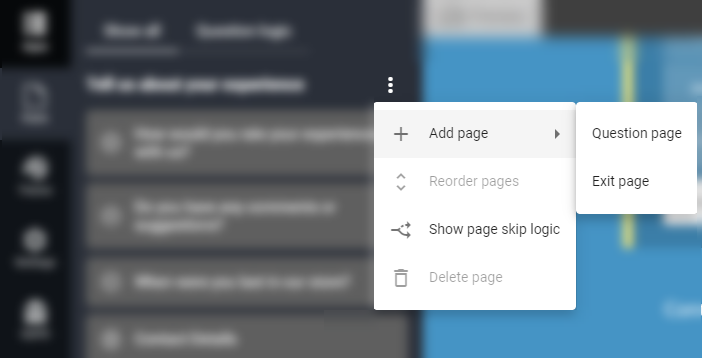 To add new pages:
Click the ⋮ icon
Select 'Add page'
Select 'Question Page' or 'Exit Page'
To reorder pages:
Click the ⋮ icon
Select 'Reorder pages'
Drag and drop pages into a new order in the Reorder page pop-up
Click 'Done'
To delete pages:
Click the ⋮ icon next to the page you want to delete
Select 'Delete page'
Confirm your selection
Managing question and page logic
We felt it made sense to consolidate Question and Page Logic into the same space as questions and pages.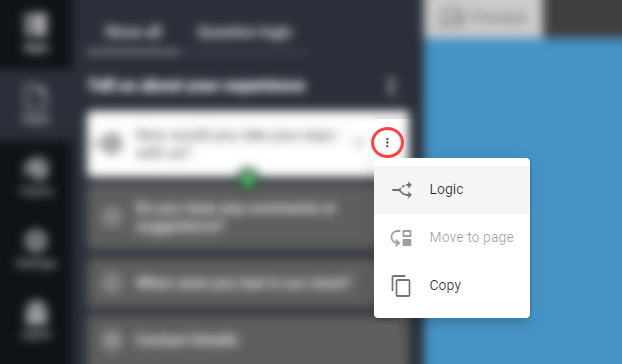 So, now you can manage logic at the question level and the page level without having to jump between different tabs.
To add Question Logic:
Click the ⋮ icon next to the question you want to apply logic to
Select 'Logic'
Use the dropdowns beneath your answer options to choose and select a page
Alternatively, you can use the Question Logic icon beneath the answer option in the builder to open the Logic menu.
To view existing Question Logic:
You can also view all existing logic applied to your questions and pages, to ensure everything is set up correctly.
Go to the Form tab
Switch to the 'Question logic' view
Applying question settings
Previously, you would need to hover over a question and navigate to the settings menu to discover what you could do to make surveys your own.
It didn't make a lot of sense to us that some of our most useful features were hidden away like that, so we've improved their discoverability.
Selecting any question (in the Form tab or in the builder) will reveal all the settings that can be customized for that question type.
For example:
Add an 'Other' answer option
Make a question required
Mark a question as collecting personal information (for pseudonymization)
Randomize answer order
Set minimum and maximum answer selections
Changing exit page type
As you may know, we have three exit page types for you to choose from:
Standard thank you page
Custom exit page
Redirect to URL upon completion
To switch between these types:
Navigate to your exit page by clicking its title in the Form tab
Click the 'Exit page type' dropdown in the bottom bar
Select an exit page type
Moving questions to other survey pages
Before this update, you would have moved questions to other pages via the question settings cog. We've removed this setting cog, but you can now moves questions to other pages by:
Go to the Form tab
Hover over the question you want to move
Click the ⋮ icon next to the question
Select 'Move to page'
Click the 'Select a page' dropdown
Choose a page to move your question to
This will then move your question to the page you selected, which you will be able to see in he Form tab.
Copying questions
As with the above, the copy/ duplicate question feature was available in the question settings wheel. This has also been moved over to the Form tab:
Go to the Form tab
Hover over the question you want to copy
Click the ⋮ icon next to the question
Select 'Copy'
A copy of the original question will appear below the original question.
Applying points/ choosing correct answers (Quizzes only)
We've also made it much easier to apply points to questions in quizzes (or mark them as correct). All you need to do is:
Click an answer option in the builder
Enter a number into the 'Points' field for single select questions or mark the answer as correct for multi-select questions
What's gone?
Here's an overview of the features you might be used to seeing, but have been removed from the app.
Question settings cog
Previously, the question settings cog would appear when you hovered over a question in the builder. You'd then have to click the Settings option to reveal the specific settings for that question.
We wanted to make it easier to find these settings, so from here on out all question settings will appear in the bottom bar when you click a question in the builder.
Drag and drop builder
We've removed the ability to drag and drop questions into the builder from the sidebar. We felt it was much more intuitive for the question type to be added to your survey with a simple click.
However, you can still reorder questions in the Form tab by dragging and dropping them into place.
Add Items tab
This where you would have dragged questions into the builder from. This has been replaced by the Form tab.
Manage Pages tab
Your survey/ quiz pages were previously listed in this tab, but we've now consolidated this into the Form tab.
Logic tab
As with the above, we've moved all Logic controls to the Form tab. We believe it makes more sense to have all these features in one place.