7 Overlooked Email Marketing Trends for 2023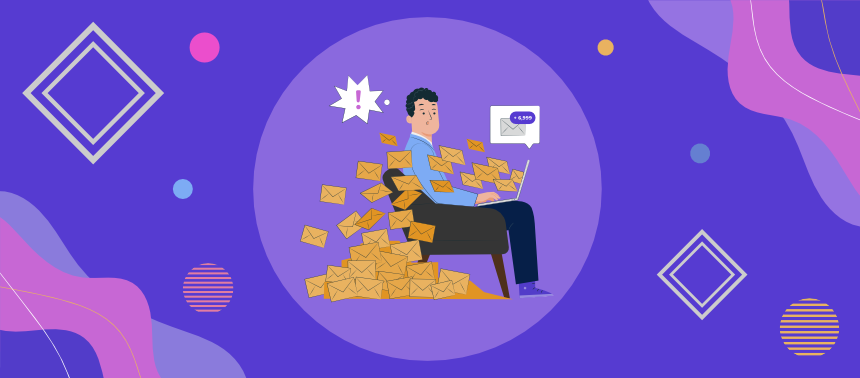 Email marketing remains one of the best converting digital marketing strategies, even today. So, it's important to keep up with the top email marketing trends of this year.
Technical developments and changed user behavior require you to alter your strategies continuously and stay up to date with any necessary changes. Maybe you are already familiar with some of these trends, but let's not forget how much more important they are becoming over time.
Some other methods, such as personalized emails, A/B testing, mobile optimization, and perfect subject lines, don't all need to be explained within this article. Nevertheless, email trends continuously change throughout the year, and you must stay updated with them.
7 Email marketing trends you should follow
Let's not waste any more time because, in this article, we will identify the top email marketing trends for 2023 you need to follow this year.
1. Accessibility
Accessible emails will always be an email marketing trend. Ensure that your emails, in a way, ensure that all your users feel addressed regarding the content. This includes users that have visual impairments. Therefore, you mustn't get super creative with your color section and implement strong contrasts. This can both help people who are color blind and more.
Additionally, try assuming that people who are blind are also part of your subscriber's list. Blind people will use screen readers, software that captures the screen content and reads it out loud. So, for your content to be read, you should also perceive it as text. Therefore, you shouldn't only place content into your images but also ensure you are delivering a message.
For HTML newsletters, you can use additional alt texts that put image content into words. For newsletter purposes, you can apply the following tips for accessible websites:
Alternative texts for images
Recognizable buttons and links
Correct HTML formatting
Clear test design and more
However, accessibility also refers to the language you are using. For example, every mail recipient is able to understand foreign words. Nevertheless, if you offer content in a simple language, you are promoting inclusion.
2. Commerce
Especially after the beginning of the COVID-19 pandemic, e-commerce has managed to become a preferred channel for B2B and B2C. Social commerce and other super apps are becoming much more important. Digital self-service is now one of the most popular ways for B2B buyers through every customer sales journey. In fact, during the first year of the pandemic, more than 40% of sales increased on e-commerce sites.
E-commerce is considered an essential part of your email marketing strategy, and since sales have risen, you can send out friendly emails after users have made a purchase or even follow-up emails if they have abandoned a cart. It does make a difference!
3. Artificial Intelligence (A.I.)
Many companies believe that AI is one of the most powerful ways you can personalize an experience. However, AI is good at recognizing patterns but can't replace humans in the factor of entirely understanding human beings.
What is the good news? First, you can use many email marketing tools to promote an AI human-like interaction form. The AI can promote maximum efficiency and help you adjust to customer preferences that are related to your target audience. Furthermore, it can help you know more about your audience and analyze the data independently.
Additionally, the AI can create mailing lists and send out emails to the right amount of people and even send out transactional emails after purchases are made. When it comes to email marketing tools, most people will choose Mailchimp, but it may be an expensive alternative in the long run. So, to have a solution for this, we recommend cheap Mailchimp alternatives for growing businesses. Here are some of them:
Flodesk
MailerLite
Campaign Monitor
GetResponse
Mailjet and more
So, the entire point here isn't to replace human beings with technology, but it's more likely to make technology work for us. At the same time, we do more productive things and bring a higher level of efficiency to improve the overall user experience.
4. Privacy-friendly emails
As more people move online, people are becoming much more concerned about their online security and how sites use their information. As a result, consumers need to identify if their information is safe and how they can ensure security safety.
In case it isn't enough to comply with GDPR standards, you need to do more depending on the industry you are in. For instance, if you're in e-commerce, users need to put their complete trust to ensure their account details are safe and remain protected under the shopping experience. Whereas, if you're operating on social media, privacy features are data protection compared to account security.
One way to include this is to remain transparent through data retention and make design choices that quickly and safely provide user information. So, where will emails fit into this? Well, there's a direct way of telling existing customers about changes that can be made to your privacy, data, or account information.
Additionally, mail privacy protection is essential. Customers want to ensure their information is safe when communicating via email.
5. Data privacy impact
As we mentioned above, data privacy laws continuously change and might not always be the same year by year. Failing to comply with these rules can result in unnecessary fines. That being said, the email marketing channel will thrive in 2022. This is because email marketers possess many years of experience working with a regulatory framework that requires compliance following a few rules.
While there may be some changes, they may make data compliance much more challenging for you. So, depending on where your business operates, we suggest you carefully read your local data privacy laws or hire an expert to deal with it.
6. User generated content (UGC)
One thing many marketers leave behind is the power of user-generated content (UGC). Including your customers in your content is one of the most potent ways to increase your engagement levels. This is one of the most direct ways of getting to where you want and allowing users to engage with your brand.
Again, the open rate of death comes into play here. As brands seek more content with more engagement, they are also looking for content with higher engagement levels, and as of now, that's UGC. According to statistics, UGC increases engagement levels by 28%!
It's simple to think of; human beings will talk about things that made them more engaged and increased their trust in a brand. Of course, your target audience will get tired of UGC at some point, but it does increase trust between both sides and eliminates the distance between you and your customers.
It's a good idea for every email marketer to optimize its UGC and is considered to be one of the most cost-effective methods for creating content. You can create entire UGC campaigns for your email marketing and speak to your customers about the type of content they are relating to.
7. Automation
Automation isn't anything new in the email marketing world. Still, it's continuing and becoming fairly popular. Before, it might be necessary to send an email weekly and schedule emails for the future. However, good automation requires user behavior. This way, you can effectively accompany users during their purchases.
Furthermore, good newsletter automation can work when triggering customer actions. Nevertheless, it depends on how your customers act and their level of preparedness. However, at the same time, it might be more challenging if you don't build up your email automation (follow-ups). A/B testing is another alternative method you can use to see if things are working out or not.
Thanks to the power of email automation, your email campaigns can can reach a wider audience and get much more things done quickly. You can react quickly and in an individual manner to each user.
Depending on how your customers act online, you can prepare the correct emails for them and send them in real-time. Alternatively, you can save resources with email automation, which will require fewer team members to complete and save you lots of time and money.
Wrapping up
That's about it for the top email marketing trends for 2023. Take what you've learned and to start creating much more effective email marketing campaigns.
If you have any ideas for the list, don't hesitate to get in touch and share your ideas with us.