How Affiliate Email Marketing Can Increase Income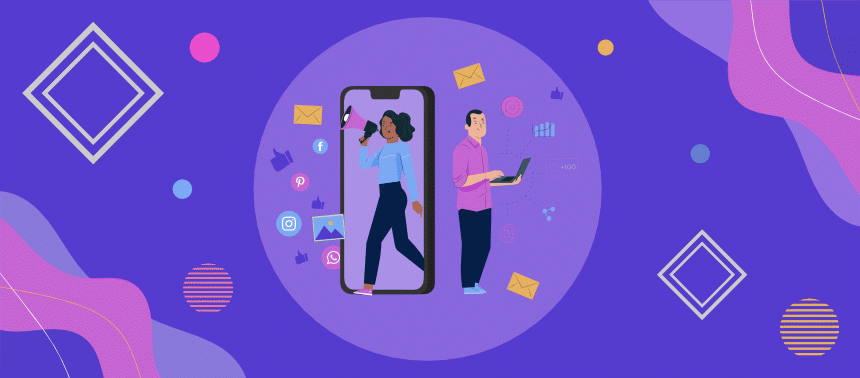 Affiliate email marketing is the practice of promoting affiliate links to a targeted audience with compelling email content. However, you don't want to start affiliate email marketing with a completely fresh email list, you'll first want to engage your audience and build trust over time for these types of campaigns to be successful.
Read on for tips on how affiliate email marketing can increase income for your business.
First off, what is affiliate marketing?
An affiliate is a person or company that has an agreement with a merchant to refer customers to their business. The merchant then gives them a percentage of affiliate sales they make on affiliate products.
An affiliate income refers to a commission earned by referring customers to other businesses.
Affiliate marketers are paid commission in three ways, namely:
Pay per click
Pay per sale
Pay per action.
Affiliate marketing is performance-focused marketing. A business pays the affiliate marketers for every user or customer that used their affiliate marketing efforts through affiliate networks.
Some of the benefits of affiliate marketing include a chance to earn passive income means you can make money while you sleep, the ability to work remotely with an internet connection, and affiliate marketing strategies have a low risk of failure since you only work on commission and do not invest in inventory.
What is email marketing?
Email marketing is a form of digital marketing and advertising. In email marketing, businesses send commercial emails via email services targeted at individuals who have opted to receive relevant content.
Most email campaigns typically advertise products or services to entice consumers into buying them.
Some of the essential aspects of email marketing include:
A call to action – You want your readers to know what you ask them to do by visiting your website.
Contact management and segmentation – You can also break up your list into smaller segments that will receive different emails based on their individual preferences.
Personalization – The more you know about your customers, the better you can personalize your email list messages.
Great copywriting and content – Email marketing campaigns grant your readers direct access to act on the message you send.
An effective subject line – The subject line is one of your most important tools because it's what will get your email opened and read.
Email marketing efforts offer many advantages over other forms of online marketing, including that it's cost-efficient, email marketing channels provide a more targeted audience, you can track email activity (including click-through rates), and it allows you to communicate with customers more personally.
Take a look at our complete email marketing guide for more information how you can grow your business and increase profits.
15 Tips for how to use affiliate email marketing to increase your affiliate income
An email list can be one of the most powerful tools in an affiliate product marketer's arsenal. Here are tips for using email marketing to boost your affiliate sales and income.
1. Use the best email marketing tool for the job
If you're going to use email marketing to boost your affiliate income, do it right. Use a suitable email marketing tool. One with excellent features such as drip campaigns, personalization, an analytics dashboard and specific email marketing services for affiliates.
You will be able to send out newsletters and build your lists. With a reliable email provider, you'll also have access to much information from other marketers.
2. Build an organic email list
Building your email list organically is key to your strategy as then you know you are targeting those who are actually interested in what you have to offer. You need to generate leads through people signing up and subscribing to your email list.
If you have to do this and you opt for cold outreach then you risk alienating consumers and ending up being marked as spam.
If you're struggling to build your audience, take a look at this lead of lead magnets to help you grow your email list.
3. Segment email lists to track referrals
Segmentation will allow you to focus on sending out more emails to people who are more likely to convert into paying customers.
For example, you could create a segment based on contacts who open or click above 80% of the time. Targeting your most engaged contacts will ensure a higher conversion rate for your affiliate email marketing campaigns.
With Shout, it's simple to segment your contacts based on email metrics, contact information, and even survey data.
4. Write relevant content
Some affiliates have built up a huge subscriber base and generate significant revenue from regularly sending follow-up emails to their subscribers. The key here is to get to know your audience and then to offer valuable content through your affiliate dashboard and give your subscribers something useful.
Your subscribers signed up for your email list because they want information from you. Therefore, your affiliate email marketing campaigns should provide value first and promote affiliate links second. This is the only way to truly build trust with your audience and increase conversion in the future.
5. Keep your affiliate marketing goal in mind when crafting an email
Make sure to keep your end goal in mind when drafting your emails. Are you trying to get a user to subscribe, purchase something, or make a return visit?
Once you know your goal for each email, keep it in mind when writing a copy. Every email should include a link back to your site so readers can accomplish that action and then convert into paying customers.
6. Do not hard sell or spam
Hard sell means directly pressuring your prospects to buy your product or service with coercive tactics. Emails should not be vehicles for blatant salesmanship. Instead, they should give valuable information in exchange for your audience's fair amount of trust and goodwill.
Spamming people is also a bad form. You don't want to fill someone's inbox with unwanted emails just because you can.
7. Use the right type of emails
People are more likely to open an email and click on links in emails sent from companies they trust and recognize. Some of the most common types of emails include:
Welcome emails – used to welcome new subscribers to your list.
Sales/promotional emails – used to promote your favorite products or services.
Relationship-building emails – are used to build a rapport with your subscribers.
Educational emails – are used to educate your subscribers about a particular topic and provide them with information.
You must utilize the affiliate marketing emails relevant to your niche and situation to boost your affiliate commission. Whichever type of email you choose, always make sure that you personalize it as much as possible. Personalized emails have a higher chance of being opened.
8. Automate your promotional email sequence
Most people do affiliate email marketing manually, so you have to spend time drafting and sending content emails. Instead of doing that, consider automating your promotional emails.
Doing so will help you promote your content more efficiently and allow you to earn more and scale as needed. Many tools are available for automation, so be sure to utilize them.
9. Naturally include multiple affiliate links
It's tempting to include just one or two affiliate links but have at least five in every post you write. The more you naturally include affiliate links, especially ones that point to high commission products and categories, will help boost your affiliate income. Ensure that these links are relevant to your readers and offer value.
This applies to when you're directing contacts to a landing page or blog post that, you don't want to fill your email content with a bunch of links. This will appear spammy to contacts and email senders.
Creating content outside of emails allows you to share it across other platforms, such as social media.
10. Cover the entire buyer journey
As an affiliate marketer, you're trying to help guide potential customers through every stage of their decision-making process. Be sure that your emails cover their entire journey as a customer and includes everything a buyer needs to make a purchase.
When making a purchase there are three stages a buyer goes through; awareness, consideration and decision.
In the awareness stage they have recognized their need, in the consideration stage they are weighing up their options and in the decision stage they'll make their purchase. Your emails need to contain enough information and persuasion to get them to the last stage.
11. Utilize any affiliate email marketing assets you have
If you have an established email list from another business or site, utilize it to promote your affiliate offers. You can set up a campaign in any tool that you want to send out emails regularly to all of your subscribers.
It could be a signup form for an opt-in mailing list or free eBooks or whitepapers that you used to distribute. You can refer to these assets for ideas on what to write about next which will help boost your affiliate income.
12. Highlight the product featured
To boost your passive income, try to highlight your favorite products in each email you send. Doing so will make it easier for readers to click through and purchase items that interest them.
Make sure that you aren't spammy with these emails. Use an opt-in form to collect names and email addresses to build a list of interested contacts.
13. Add a coupon or discount
Offer a discount on your product to people who sign up for your email list. Discounts will incentivize them to sign up, giving you an easy way to build relationships with customers in your niche.
You will make more money than you could have by selling just one product at a total price. Just keep track of how many sales each campaign generates, so you know which ones are worth repeating.
14. Monitor your affiliate related insights & trends
One key to successful affiliate marketing is to have a good understanding of your customers.
But, there are also third-party sales insights to get a better idea of what kind of offers might work best for your audience. It's essential to keep an eye on these metrics, as they can help you make decisions that will boost your income.
Another thing to consider is any trends that come about. You need to ensure that you are ahead of the game so that your emails and your affiliate links get noticed over and above any one else.
15. Create a sense of urgency and need for action
You can do this by placing a countdown timer, an event countdown, or even an event registration form in your email.
You can also insert specific deadlines into your emails that trigger subscribers to take some action you have set up. Such affiliate efforts will increase conversion rates, open rates, and click-through rates.
Wrapping up
While it may seem like a lot to juggle, email marketing can work wonders for your business and for your affiliate marketing strategy. And when you consider that there are a number of email marketing tools available to automate this process, it really is a no brainer.
Combining the two will ultimately lead to an increase in sales numbers.
By optimizing your subject lines and including calls-to-action, you'll be able to get your subscribers clicking through on their favorite emails in no time. More subscribers will lead to more clicks on your expertly placed links, leading to more sales, which will lead to more affiliate income.