The Complete Email Marketing Guide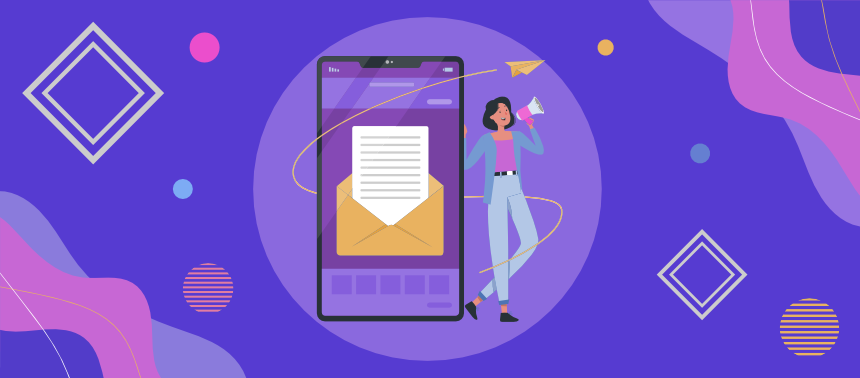 What is email marketing?
Email marketing is a digital marketing strategy where emails are sent to prospects and customers on a consistent basis to build relationships. Successful email marketing will convert prospects into sales and nudge all customers into recurring purchases.
Does email marketing still convert?
The short answer is yes. With advances being made in all other areas of digital marketing, it's easy to write email off. And whilst email conversion did peak back in 2018, it still accounts for 19.8% of all transactions in 2020.
But why? Well, most people are still using email as their primary mode of communication. At least when it comes to interacting with brands and organizations.
Why doesn't it work for everyone?
The truth is, it's easy to see email marketing as just another task as part of your wider strategy. And that leads to bog-standard being sent for the sake of it.
Roughly 306 billion emails are sent each day. When you look at that raw number, the competition you have with other senders is all too real.
A recipient will only dedicate so much time to reading emails and most of that will go to people they already know. When you're a company or brand trying to catch a prospects eye, you have to stand out to be one of the few they choose to look at that day.
Because after that, you'll be lost in their inbox.
So, a bog-standard email just won't do now. And it's not just about catching their eye, drawing them in is only half the job. You have to continuously follow through with great content to keep them engaged and coming back to you.
A successful email marketing strategy takes time and commitment.
Step One: Build an audience
Before you start running campaigns, you'll need to start building your email list. But to do this, you'll need to get permission.
There are lots of ways you can go about getting permission to add contacts to your email list. But the most common method is to create a lead magnet:
Product updates
Newsletter
Email series
Free download
Whitepaper
Ebook
If you want more examples of ways you can grow your email list, here are 13 lead magnets to give you a head start.
You'll need to make the purpose you're collecting their personal data clear and couple this with a strong CTA. Give them a good reason to subscribe to your emails and establish trust with your audience.
Take a look at how to write a call-to-action that is sure to convert visitors.
Step Two: Create valuable content
When it comes to sharing your great content, it's important to live up to the expectations you set for your audience when they subscribed.
Don't get too excited and send twice as many emails as you said you would. You're a guest in their inbox, so you won't want to oversaturate it with your brand.
But the converse is also true. If you promised to send one email a week and only send one a month, you're still breaking your promise.
Welcome emails
The first email you send, your welcome email, is essential to the success of your future campaigns. Typically, welcome emails have 4 x more opens and 5 x more clicks than other email campaigns.
People will expect to receive a welcome email from you when they subscribe, whether it is to introduce your email series or to help them get started with your product or service.
Whatever your welcome sets out to do, make sure it has a strong CTA to encourage subscribers to continue reading your emails.
Welcome emails can encourage 33% more engagement with your brand. And if you included an offer discount or deal as part of this welcome, you could boost revenue by up to 30%.
For more information, take a look at our guide on how to write a welcome email that keep subscribers reading.
Frequency of emails
Your email schedule will depend on the type of content you're planning on sending subscribers.
If you're helping new users get started with your software, you'll likely want to send emails once a day for a week or so. This way you can start with the basics and build up to the more niche features.
Newsletters are more commonly sent on a monthly basis. This allows you to spend time compiling different types of content, from product updates to blog posts, and deliver them in a single package.
However, all of this is completely up to you. You'll need to consider the needs of your audience and the resources you have at hand when setting a schedule.
Here's one rule to live by; consistency is key. If you send your emails on a Friday at 10 am, stick with it. Your subscribers will come to expect your emails, and there's real power in that.
Scheduling emails
Once you've figured out how often you'll be sending emails, you can start scheduling them in advance. Writing emails in bulk ensures that your tone and messaging remains consistent and that you have at least a few weeks of great content for subscribers.
By planning your emails beforehand, you can construct an email drip campaign with the purpose of nurturing leads and building relationships with contacts.
Promotional emails
Whilst you're aiming to engage subscribers, it isn't the be-all and end-all of your email campaigns. The bottom line will be to drive sales and increase revenue.
Identifying a time and place in your campaign to promote your product can be tricky. But when it's done right, it will be rewarding.
Your subscribers won't be surprised when they receive a promotion, they will be expecting it. What you don't want is for its message or tone to conflict with the rest of your campaign. So, try to keep this in mind when you're writing sales copy.
A great way to do this is to create content in tandem with your promotion. For example, a blog post, video or infographic exploring the benefits of a product like you're own. Then make it clear what sets you apart from your competition.
And if possible, personalize these emails. Send promotions based on what individual subscribers have engaged with the most. You can do this by reviewing what emails they're opening, what links they're clicking and the feedback they give you directly.
Email newsletters
Newsletters are a great way of building relationships with customers and other subscribers. There's a broad spectrum of content you can use to sustain your newsletter, from product updates and blog posts to industry news and 'how to…' articles.
Arguably the best thing about a newsletter is that not all content has to be original. Subscribers get just as much out of curated content as they do from original content. At the end of the day, they'll remember it was you that sent it their way.
As long as you're providing value, you can't go wrong.
Step Three: Before you hit send
The success of an email campaign relies on more than content alone. You'll also need to consider these three things:
Email design
Compliance
Accessibility and responsiveness
Email Design
If you plan your email template design before you start writing content, you'll have a better idea of how much space you'll have for text, images and videos.
Whatever you do, it needs to be easy to read. Too much text or a distracting design can cause fatigue, which will lead to disengagement and unsubscribes.
Remember that most recipients will just be scanning your email, so important information and your CTAs must stand out.
If you want to share more information on your email content, you could link to a blog post or build a landing page that expands on the topic.
This leads us nicely onto our next point, your design needs to be responsive.
Accessibility and responsiveness
A responsive design is one that works seamlessly across all devices, browsers and email service providers.
With over 46% of email opens being from mobile devices, it's essential that your email looks the way you intended.
Most email marketing tools will have a tool that allows you to view your campaign in desktop, tablet and mobile formats. So, you're covered there.
But, to test your email across browsers and service providers you'll need to get stuck in. Send a test email to an account you have access to and open it in all the most popular browsers.
To test it across different providers, you might want to consider using a tool. Take a look at this list of email testing tools to see what meets your needs to best.
Compliance
There are two major regulations you'll need to consider to ensure your email campaigns are compliant: CAN-SPAM and GDPR.
CAN-SPAM compliance
This regulation applies to any commercial email sent for business purposes. Here's how to ensure you comply:
Clearly identify your business email address in the 'From' and 'Reply' to fields
Include your company name and address
Accessibility and responsiveness
A clear 'Unsubscribe' link in all emails
Quickly remove subscribers who opt-out
Write honest subject lines
For more information directly from the source, you should head over to the Federal Trade Commission website.
GDPR compliance
Technically, you only need to comply with the rules set by the GDPR if you are a business operating in the European Union or if you market to EU citizens. If you fall within those specifications and do not comply, you are likely to face some hefty fines.
We'll break down some of the rules that will affect your email marketing campaigns:
You must explicitly ask for consent to store and process personal data
You must define a reasonable purpose for why you are processing that personal data
Anyone can request their data to be deleted (permanently) from your records, this must be done immediately
There should be a clear and accessible method of unsubscribing from your email list at any time
You must record the methods and processes by which you're remaining compliant with all GDPR rules
Personal data must only be shared with those for whose job roles require it
The GDPR was a huge undertaking to ensure the protection of personal data in use by businesses. We'd highly recommend taking a look at the official legal text for the GDPR.
This was a very brief overview and these rules will impact more than just your email marketing standards.
Step Four: Metrics and segmentation
Now we've covered the basics of creating effective emails, it's time to move onto analyzing email metrics and using segmentation to refine your strategy.
Metrics and analytics
There are many factors you can use to evaluate the success of an email campaign, but the three you'll find yourself focussing on are:
Open rate
Click-through rate
Unsubscribe rate
Open rate
Your open rate shows how many people opened your email, based on a tracking pixel. A low open rate indicates one of the below:
You need to build a stronger relationship with your subscribers
You aren't providing enough value in your emails
Your subject line was not enticing enough
Whichever it is, you'll need to find a fresh way to engage your audience. Consider their wants, needs and what you promised to get them to subscribe.
What is a good open rate?
The average open rate for emails is between 15-25%. Anything towards the higher end of this range (or even above it) shows you're doing something well.
Click-through rate
The click-through rate (CTR) highlights how many people clicked a link in your email. A low CTR may indicate your content is off the mark for recipients or maybe your CTA isn't strong enough.
What is a good click-through rate?
CTRs vary wildly from industry to industry. Take a look at this list of average CTRs from Smart Insights for a great overview of these.
Unsubscribe
Your unsubscribe rate is calculated by the number of people who click the "unsubscribe" link in your email.
There will be a natural number of subscribers you lose during campaigns, but if your unsubscribe rate is higher than your email growth rate you have some major changes to make.
The best way to address this is to identify where your unsubscribe rate is highest. If you see an increase after one particular email, then you need to take another run at the content.
If the unsubscribe rate is dispersed over your entire campaign, you'll need to reword the entire series. Improve your CTAs, re-consider what content you're providing, offer more deals. There are so many ways you can make your emails more engaging.
What is the average unsubscribe rate?
On average, you'll see a natural unsubscribe rate of between 0.2-0.5%. Anything above 0.5% calls for a review of your email content.
Segmentation and grouping
Segmentation is the practice of splitting your email list into smaller groups, so you can send targetted campaigns.
Here are some examples of list segments:
All customers
Leads/ prospects
Newsletter subscribers
If you have a large number of subscribers from the same organizations, you could split them by:
Department
Location/ branch
Seniority
The ways you segment your list are limitless, really. And by doing so, you will make each campaign more relevant to individual subscribers.
Which will, in turn, increase your open rates and CTRs and decrease your unsubscribe rate.
You can also segment your list by email metrics. For example, if there are a group of customers who didn't open your last campaign, you could ask them what they'd prefer to see.
And conversely, if subscribers were very interested in a campaign, follow up with something similar or pitch them a related product.
Improving email campaign metrics
Naturally, your email list will grow over time and you may start to see your performance start to drop. This can occur for a few reasons, from a loss of interest in the content you're providing to a lack of personalized campaigns.
But if you're sure you've been doing everything right, there may be a problem with the health of your email list. This problem is easily solvable, in-fact we've written an article on email scrubbing to guide you in the process of cleaning your list and improving your campaign performance.
Wrapping up
If you aren't already, starting some email marketing campaigns is a very good idea. Not only do they have an exceptionally return on investment (ROI), they give you access to the mind of your audience.
The more you know your market, the more you will prosper with them.
But, you must remember to treat recipients like people. Put yourself in their shoes and be respectful of the access they've given you into their lives.
If you're struggling to provide real value with your emails, take note of the kind of content you engage with and try to adapt that for your own means.
Out of all the things we've covered in this article, the aspect you have to take most seriously is compliance. You absolutely cannot ignore this.
Non-compliant marketing will not only lead to fines, but also a complete loss of faith in you from your subscribers.
And finally, live up to the expectations you set for yourself. Just like many of your other marketing channels, email marketing is a long game. You're not likely to see huge increases in revenue and customer relationships instantly.
You have to put in the time and keep finding ways to raise the bar for your subscribers. You don't just want to be seen by your audience; you want to be remembered.