13 Lead Magnets to Grow Your Email List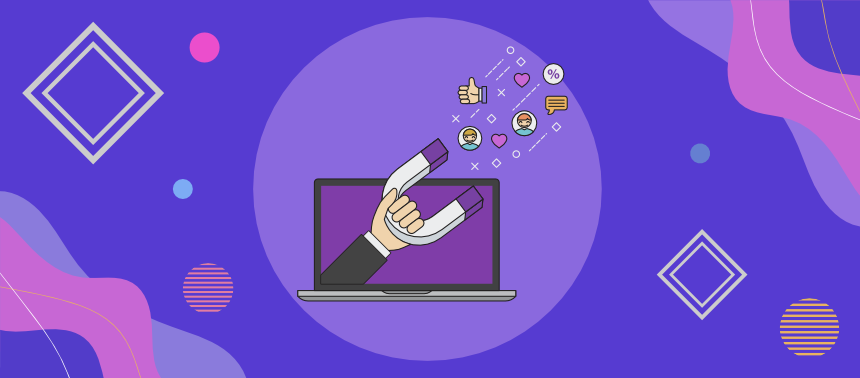 What is a lead magnet?
Lead magnets are resources or perks intended to attract potential leads and capture their contact information.
For successful lead-generating content, you need to think about what kind of customers you want and what they need. As a digital marketer, you should be aiming to solve a problem, share your expertise or save leads money in some way.
If you do use a lead magnet to capture email subscribers, it's essential you deliver on your promise immediately. Especially if you've promised content or a deal. So, we'd recommend sending this in your welcome email.
An effective lead magnet also needs a strong CTA, so you'll need to know how to write a call-to-action that converts. Let prospects know how they'll benefit directly from your offer, or they may not be willing to hand over their email.
And finally, you'll want to optimize your lead form as much as you can. You don't want any friction decreasing the number of people who convert.
Give them a peek behind the curtain
If you're selling a product or service, one of the best ways to persuade people to buy or subscribe is to create a lead magnet that showcases your product.
1. Free trials or product samples
If you're a SaaS organization, one of the easiest ways to generate subscriptions is to offer a free trial of your software.
You don't have to hand over your whole tool to subscribers, but make sure you give them enough to make this exchange worth it for them.
Most trial trials have a time limit of some sort, ranging from a week to a month. The length you choose should depend on your tool and the time users will need to explore all your features.
We've found that 14 days works well for our users, giving them enough time to create projects, share them and analyze their results.
SEM Rush has a great example of a landing page set up to capture email addresses.
2. Give users a demo
Product demos are a great way of showcasing your tool to users. And if you're service is truly valuable, you can use demos to leverage email subscriptions.
Your product demo could be a video of someone from your team giving a step-by-step walkthrough of your tool or you could put a demo version of your tool up behind a lead page.
The second option allows prospects to test your tool out for themselves but will require some effort on your part to make your tool accessible. You'll also need to plan how much of your tool they'll have access to.
SalesForce has a whole page set up to capture emails of leads who're interested in their demo.
3. Offer a free tool
There are two ways you can about providing a free tool for prospects to use.
Firstly, you can offer a freemium version of your tool. Freemium products usually offer a limited set of features for basic usage, which encourages users to move to a paid plan. However, you could offer a wider set of free tools if they subscribe to your email list.
Alternatively, you have to option to provide a whole tool for free. By doing so you've already sown good faith and provided value to subscribers. It also gives you a source of content personalization for subscribers, enabling you to send weekly or monthly stats based on their usage of the tool.
A great example of a free tool would be Neil Patel's traffic analysis and SEO analyzer.
Provide valuable content
If you don't have a pre-built tool or don't have the time or resources to build one, you can draw prospects in with some top-notch content instead.
Content-based lead magnets work as they not only provide value but also position you as an expert in your field.
4. Give subscribers a 'content upgrade'
A content upgrade is a method of providing leads with a partial version of your content, then handing over the rest in exchange for their email.
This works especially well with "10 top tips" articles or walkthroughs, where reading the first half of the section naturally encourages readers to want access to the second half.
You can set this up as a download for those who subscribe or send the second half of the content in your welcome email.
5. Write an Ebook
If you have a series of related blog posts, then you've already got an Ebook in the making. Ebooks offer prospects a one-stop learning experience and a solution to a problem they have or a task they're working on.
They also demonstrate to website visitors and other prospects your expertise, which will go a long way to building trust.
6. Create a case study
Case studies are good for attracting a more specific subset of prospects, that are more interested in the benefits of your products or service.
Case studies present these benefits, or use cases, from the point of view of other users or customers. So, if you intend to use these as lead magnets you'll definitely need the permission from the customer who provided to the case study.
They're especially effective at building an audience that's more likely to convert, as downloading the case study itself is an indicator of genuine interest in your product or service.
A great example is from App Sumo, where they share several case studies in a whitepaper.
7. Put together a checklist
Checklists consist of a list of bullet points or tasks that walk prospects through a step-by-step process of achieving their goal.
Each step in your checklist should be an actionable task for readers, something they can mark as done once they've completed it.
The best thing about checklists is they can be created from a variety of resources you've likely already created. For example, "How to…" blog posts are begging to be turned into a checklist.
A live example is from Really Moving, which is a checklist of who to tell about your change of address when you move.
8. Provide expert advice
Offering some personalized advice for prospects is an exceedingly effective method of capturing leads, as you're both answering a question and demonstrating your value all in one go.
This advice could be a consultation of some sort, a custom quote and checklist or a review of some kind. These lead magnets will be more time consuming but offers a much more personal experience for your leads. Which can go a really long way in building relationships.
9. Engage your audience with surveys or quizzes
Surveys and quizzes are not only an excellent way to engage your audience, they're also a persuasive lead capturing tool.
Prospects will take a quiz or fill out a survey to learn something about themselves. And once they're finished, you can leverage their results in exchange for their contact information.
A problem with this method is that you may find it difficult to inspire a huge amount of engagement with a survey. Not to worry, we've written an article on how to increase survey response rates.
Most people who make the effort to answer your questions will be willing to take that final step. Head over to this article to learn how to create an effective lead capture quiz.
Did you know you can build quizzes and make surveys with Shout? We have all the features you need to create your own survey/quiz lead magnets.
10. Create a video series or webinar course
Creating a video series or a webinar course is a great way to both persuade prospects to subscribe and to keep them coming back in future emails. This way you aren't just offering one lead magnet, but a whole email course.
That's the whole point, isn't it? To create content that subscribers want to see more of. And if you can start that process with the lead magnet, then your audience already knows what value you're providing immediately.
Save prospects money
Using lead magnets with monetary value is a popular way to generate leads. And for good reason: the exchange provides a clear and immediate benefit for prospects.
11. Free shipping or discount codes
When you offer free shipping for a product or a discount on your price in exchange for an email subscription, the value is clear for prospects. So, you have to do very little work.
The only effort on your part here is to calculate how much money you can afford to "lose" in order to capture email addresses.
As email marketing has such a high conversion rate (when done well), you're likely to make this money back from your list in the future. But, if you've already sold something to capture this information, you will need another product/ plan/ feature to upsell in the future.
What we're saying here is, don't put all your eggs in one basket. Save something to pitch your audience later on.
12. Competitions or giveaways
Prospects may be more willing to subscribe to your email list if there's a prize up for grabs. Just ask them to subscribe for a chance at winning a prize, that's all there is.
Just make sure your prize is tailored for the type of audience you want to attract. For example, if you run a SaaS organization you could offer a years subscription to your top plan for free (if they win).
13. Social contests
Social contests are effective at capturing leads from an audience you've already engaged in some way.
Your social media is already familiar with your brand and may have fewer reservations with handing over their contact information to you.
Wrapping up
Running a social contest also keeps costs low, even if you're using ads to get more eyes on your campaign.
Whichever lead magnet you choose to go with, just remember these important tips:
Tailor your lead magnets to your audience
Make sure the benefits of your content/ offer are clear
Write a strong CTA
Deliver on your promise when prospects subscribe
Continue to create valuable content in future emails
We also recommend doing a bit of testing to see what works for you. There's no reason you couldn't create 2 or 3 leads magnets and using a simple A/B test to identify what option yields the highest conversion rate.