How to Write a Welcome Email Engages Subscribers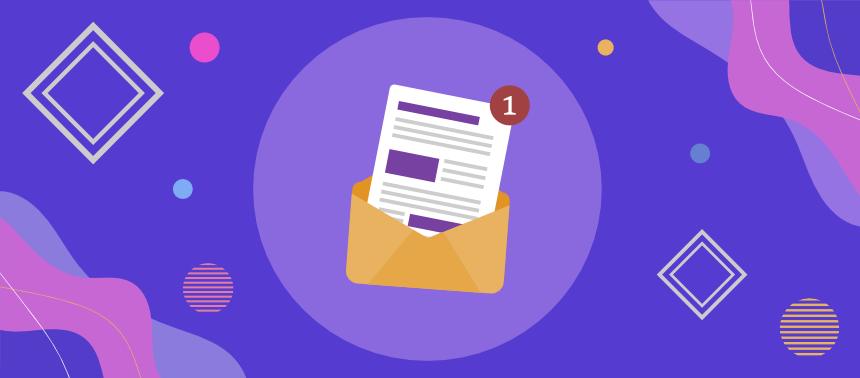 What are welcome emails?
A welcome email is exactly what it sounds like. It's the first email you'll send to a subscriber once they've opted into your list.
We're not talking about a confirmation email, where you confirm to a subscriber they've successfully signed up. And we're not just talking about thanking them for signing up.
Both of those are important in their own way, but the welcome email is the cornerstone of the rest of your campaign. So, must be more than either of those.
Why are welcome emails important?
Email marketing is all about building relationships with your audience, and this is your foundation for doing so.
On top of this, welcome emails have an average open rate of 50%. Making them 86% more effective than regular campaigns.
In fact, 74% of people expect to receive a welcome with only about half of all companies actually sending them. That's a lot of wasted potential, as subscribers who receive this type of emails show 33% more engagement with a brand.
Sounds too good to be true, right?
What's the catch?
Your welcome email is a subscriber's first impression of you. And first impressions count.
You'll need to capture who you are and why people should stay subscribed in a single snappy email. Which is no easy feat.
But here's the upside. These emails see a click-through rate of 26.9%.
With those kinds of numbers clicking-through to read your content, this is your chance to shine. Link to your most valuable content, whether it's a:
Blog post
Infographic
Tips and tricks
"How to…" articles
Industry news
Now, let's get down to the nitty-gritty. What should you set out to achieve with your welcome email?
Determine your timeline first
If you haven't yet set out your campaign timeline or determined how frequently you'll be sending emails, do so before you send a welcome email.
How often you email subscribers will depend on your content and resources at hand. You don't want to be writing emails ad-hoc, if subscribers detect inconsistency in your emails they're likely to become disengaged.
You also don't want to spread yourself too thin, so it's important to plan ahead.
For more tips on building an audience and planning your campaign, take a look at our email marketing guide.
Start with the basics
Before you get going with your welcome content, you'll need to start with the basics of any email campaign: who is it from? what is your subject line? and what is your design?
Who's the email from?
The first thing recipients will see look for is who the email is from. Make sure you're using your brand or company name in the 'From' field, as this will reassure readers they can trust your email.
Why should they open your email?
Your email subject line needs to be enticing. You need to remember that recipients will be skimming their inbox to decide what's worth opening. So, you'll need something that catches their eye and draws them in.
Think about what gets you to open emails and how to can adapt that for your own subject line. People react more strongly to content that evokes an emotional reaction. Whether it's curiosity, desire, excitement or anger, emotional content always connects with readers.
Provide enough information in the subject line so readers will open your email, but not so much that they don't need to read on.
Create a design that stands out
A great email design is visually stimulating to recipients, is consistent with your branding and encourages readers to continuosly move from one section of your email to the next.
It doesn't have to be too flashy, this can be distracting to readers. Remember, it's your content that should stand out.
Consistency is key to branding, so come up with a design that will be shared across all your emails before you even one.
When subscribers open, they should immediately recognize your email design. This, coupled with top-notch content, will encourage trust in your emails. Which leads to a loyal audience.
Thank your new subscribers
Yes, we know! We said a welcome email was more than just a thank you, and it is.
But that doesn't mean you shouldn't do it. A simple "thanks" is an effective trigger for engagement with an email. It shows you're human too, and you appreciate them choosing you over the competition.
When a subscriber knows you appreciate them, you build loyalty. You keep them coming back.
And you can thank them with more than words, you can offer them something. A welcome email with an offer can increase revenue by 30% when compared to those without a deal.
Something for them, something for you.
Deliver on your promise
Did you use a lead magnet to encourage subscriptions to your email list? If you did, now's the time to deliver.
Lead magnets are incentives, which provide interesting or useful content to draw in potential subscribers. Here are some of the most used lead magnets:
Ebook
Whitepaper
PDF
Industry Report
Webinar
Free Trial
Live demo
Free Consultation
Coupons
Cheatsheets
Quiz/ Survey
Online Course
Contest
New subscribers will want to see this incentive delivered on in your welcome email. They won't expect or appreciate it to come any later than that. Take a look at these 13 lead magnets and how they can grow your email list.
If you don't already use a lead magnet, we'd highly recommend doing so. As long as it's providing value (such as actionable advice), it's likely to boost your list growth rate.
With Shout, you can make surveys and build quizzes that are easily shared by email. We even compile performance KPIs with your feedback and scores, for an all-in-one professional digital report.
Set expectations for future emails
You should now summarize what subscribers can expect from you in the future. What kind of content should they look forward to? Will they receive any more deals or promotions? How often will they hear from you?
Transparency is key here, you can't lie to your subscribers. If they get a whiff of dishonesty from you, they won't hesitate to unsubscribe or report you as spam.
You want to get them excited for your next email, and the one after that. Highlight the benefits of being on your list, treat subscribers like VIPs. Each and every email should feel personal to them, including this first one.
If you've set the bar high with your welcome email content, you absolutely can't lower it in future emails. Keep providing content they want to see.
Tell them a little about yourself
To connect with subscribers, they'll need to know who you are, what you do and what you stand for. If they have this knowledge up front, it'll be easier to pitch your product or service later on.
To be invested in and engaged by your email content, subscribers not only need familiarity with your brand but also common ground with you. Something you both care about, equally.
This is a good time to plug your USP. That is, what sets you apart from all the competition.
Provide other contact points
You should include your company information in all your emails (most likely the footer), and this is a great space to provide other points of contact.
For example, if you have specific emails for other departments such as sales, customer support or product demos.
It's also a good idea to add links to your social media profiles (Facebook, Twitter, Instagram, Youtube, etc.) and encourage subscribers to follow you on those platforms.
The welcome email is a good time to let people know what value they can get from your social accounts. What's different about your content there? Why should they follow you?
Get personal with subscribers
Personalization is absolutely essential to the success of your email marketing strategy. And by this, we mean more than just throwing the subscriber's name into the email header.
Can your email be personalized based on their location? Did they subscribe using a specific CTA or lead page? What lead magnet were they attracted to?
All this and more can be used to personalize your content for recipients. And if you can, show this personal approach in your subject lines. Emails with personalized subject lines are 26% more likely to be opened.
Take a soft approach
The last thing you want to do once someone has subscribed to your list is to hit them with the hard sell. They've already done something for you by signing up, you don't want to come off as pushy. That won't breed loyalty.
What we're saying here is, don't try to promote everything you have to offer at once. Spread what you can over future emails and focus on one or two of the essentials for the welcome email.
Take a soft approach when you pitch your product, include a CTA along the lines of 'learn more about our products' or 'calculate a price for a team your size'.
End with a CTA
Conclude your welcome email with a persuasive call-to-action to prompt readers to take the next step. Whether it's to start onboarding users or a guide of some kind, you should set out to help subscribers achieve their goals.
This will start to build trust between you and your readers that will keep them coming back to read your emails.
Ask subscribers to whitelist you
Asking to be whitelisted is one of the essentials we were talking about above. A subscriber can whitelist your email address by adding you to their approved senders list.
This will ensure all your future emails will get to their main inbox, and not end up in their spam or junk folders. In other words, it will improve deliverability.
When you ask them to do this, make it clear what they'll be missing. Link to your best content, share a pro tip, give them a deal. Anything that illustrates the value in your emails.
Not everyone will know how to do this, it's possible they might not know this is even an option. So, why not give them a walkthrough on how to whitelist emails.
Conclusion
How to write a welcome email that keeps subscribers reading​
Determine a timeline for your emails
Send the welcome immediately
Thank subscribers
Deliver on your promise
Set expectations for future emails​
Tell them about yourself
Link to your social media accounts
Provide other means of contact
Personalize your email
Don't give them the hard sell so soon
Ask to be whitelisted
With some of the highest open rates and CTRs across all industries, writing an engaging welcome email is the key to converting readers into loyal customers.
Whilst it's likely that you'll se a drop in campaign performance after the welcome campaign, you should always be striving to improve and increase engagement.
Keep an eye on your email metrics and KPIs to see what content performs best. Use this data to improve your strategy and set benchmarks to monitor success over time.
If you're confident you're making the right changes to your campaigns, but your performance is dwindling, you may need to consider cleaning your email list. Here's everything you need to know about email scrubbing and improving list health.
You must continue to engage your audience over time with valuable content and advice. Learn how to create a drip campaign and continue building strong customer relationships.