Drip Email Marketing: How to Create a Drip Campaign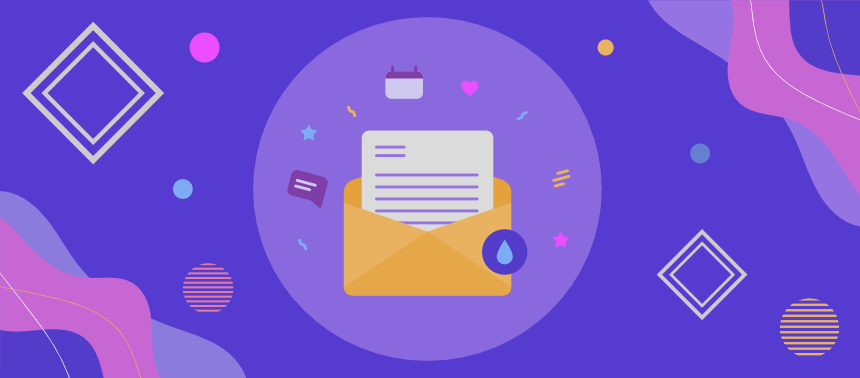 What is drip email marketing?
Drip email marketing is the process of sending a series of emails automatically according to a schedule. For example, you'd have a welcome email ready to be sent for when someone subscribes to your list and then another a few days down the line.
The main advantage that drip campaigns have over email newsletters is that contacts will experience your entire campaign as opposed to just your latest email. Which means you're nurturing each and every relationship in the same way.
The other benefit is that you can send emails based on your contact's actions, which goes that one step further in personalizing their experience with you.
Essentially, these emails would be triggered based on events you've set up linked to contact's actions. For example, sending an abandoned cart email to those who don't follow through with a purchase.
Why are email drip campaigns so effective?
Drip campaigns are so effective because their content can be personalized based on your audiences' behaviour. And the more relevant an email is to your audience, the higher your engagement rate will be.
They also allow you to nurture leads over a series of emails, building relationships, earning their trust and moving them through the sales funnel. Here are a few drip campaign statistics that will illustrate this:
Open rates are about 80 times higher than standalone emails
They generate 50% more sales-ready leads
Nurtured leads make 47% larger purchases than non-nurtured leads
Relevant emails generate 18 times for revenue than generic emails
Automated campaigns are an extremely rewarding marketing strategy, but they can be time-intensive in the beginning. This is especially true if you're targeting multiple segments of your audience, as they'll each need a drip campaign to match their needs.
How to create a drip campaign
The basics of a drip campaign are always the same, whether you're trying to convert free users, cross-sell a product or onboard new customers.
So, here are 5 steps to helping you create an email drip campaign:
Decide on a target audience
Choose an objective
Set up a trigger
Create your emails
Monitor your campaign metrics
1. Decide on a target audience
First off, you'll need to decide what segment of your audience you'll be targeting with your drip campaign.
This is important, as your message and objective will have to be as personal and relatable to your audience as possible for it to be successful.
Here are a few examples of target audiences:
New users
Newsletter subscribers
First-purchase customers
Lead-magnet conversions
Free Trial users
2. Give your drip campaign an objective
You'll then need to set an objective for your campaign. What are you setting out to achieve? What series of actions do you want contacts to perform?
Welcome series
Collect customer feedback
Up-sell new features or products
Onboarding
Lead nurturing
Increase conversions from Free Trials or Freemium accounts
Engaging users to improve customer relationships
Courses (webinars etc.)
If your campaign is focused on collecting feedback, you can easily make surveys and send them to email lists with Shout. We even have tools for you to build quizzes if you just wanted to engage subscribers or create lead magnets.
3. Set up your trigger
Your email drip campaign can be triggered by an event or a condition that your contacts meet. Events are usually link clicks, page visits or other user actions on a page that are easy to track. For example, if a lead fills out a form or download a lead magnet. We've covered lead form optimization and how lead magnets can grow your email list in other articles if you're interested in these specific strategies.
Alternatively, you can use a single trigger to deliver a whole online course or series of blog posts across multiple emails.
In regards to conditions, these can be more specific to your product, service or audience. If you're a SaaS company, you could set use drip email marketing to encourage users who've been using a Freemium plan for a specific amount of time (e.g. 1 month) to become a paying customer.
But another (more general) strategy would be to trigger an email series based on contacts' open rates, e.g. send to all with an average open rate of 80%. In doing so, you're targeting contacts who're already engaged with your emails, which will lead to a more successful drip campaign.
This kind of automation ensures you never miss an opportunity with someone who's engaging with your content.
4. Create your emails
After you've set up your trigger, think about how many emails your drip campaigns will consist of and how frequently you'll need to send them.
Ensure that your design is consistent between all your emails and that content is written so readers can easily scan it.
You must focus on providing value in your emails, from the first to the last. There should always be some advice or advantage that your audience can take away to keep them coming back. Take a look at our complete email marketing guide for more tips on creating engaging emails.
Don't send all your emails in one day, schedule them at least a day apart so that you aren't spamming inboxes. Go one step further by setting up triggers within your workflow to send emails based on engagement and interaction. E.g. send a discount code to a contact who clicks a product link but doesn't make a purchase.
If your drip campaign is a welcome series, take a look at our article on how to write welcome emails that keep subscribers reading.
5. Monitor your campaign metrics
Even though your drip campaign is automated, you'll still need a hands-on approach to monitor its success. There are a few KPIs you'll need to track in order to do this:
Open rate
Click-through rate
Unsubscribe rate
Bounce rate
However, there are a few other key metrics to keep an eye on to determine if your drip campaign is successful, such as click-to-open-rate and list growth rate. Head over to our email marketing metrics article for more information.
If you're experiencing a large number of drop-outs or unsubscribes during your drip campaign, try to identify where in the workflow it's occurring. E.g. If you're seeing dropouts after 'Email 3', then you'll just need to spruce up the content or add more value to that email.
You should also conduct A/B tests on email content and subject lines to determine what performs best and maximize conversions.
Because you'll have triggers set up on landing pages (and in-app if you're a SaaS company), you'll also need to monitor traffic and link clicks there too. If a page has low traffic, you might want to consider moving the trigger elsewhere or reconsidering whether you've created a drip campaign for too small an audience.
It's not always a problem if your target audience is too small, this will likely lead to more engagement and higher conversion rates. However, you have to weigh those rewards against the amount of time it takes to create and monitor the campaign.
If the page has a good level of traffic but has a low click-through rate, your call-to-action may be the issue. The CTA must be strong, stand out amongst all your other content, and illustrate clear value to leads. Learn how to write a call-to-action that converts.
Wrapping up
Whatever kind of drip campaign you create will depend on your industry and your specific objectives. But their purpose should always be to nurture leads through the sales cycle and increase customer engagement with your brand.
Always aim to provide value for your audience, show them that you appreciate their time and loyalty by giving them something can't find elsewhere. Treat them like VIPs.
But don't forget to work your own personality into the drip emails, no one will commit to an overly corporate buzzword fest. Find a personable tone and align your messaging with your brand values and you'll find an audience who comes back for each email.
And most importantly, never forget to track the success of your campaign. Find out what's working and what needs improving, either by referencing email metrics or by asking contacts for feedback. Then optimize your campaigns based on your findings.