How to Create an Interactive Quiz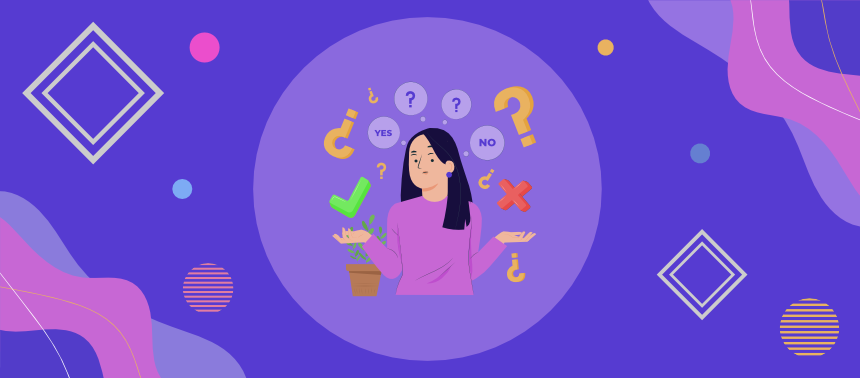 Learning how to create an interactive quiz is easy, making them an excellent resource for engaging and testing your audiences. They can be easily shared directly with your quiz taker or on social media platforms to reach a wider range of people.
We've broken it all down into six simple steps for you to follow.
1. Identify the goal of your interactive quiz
The first thing you'll need to do is to decide the purpose of your quiz. There are lots of reasons you might create a quiz, here are a few examples:
Lead generation quizzes
Product recommendation quizzes
Customer engagement
Employee engagement
Compliance and standards testing
Your goals for each of these quiz types can overlap and differ. But, their aim are likely to be one of the below:
Capture leads
Collect email addresses (grow your email list)
Build relationships
Increase brand awareness
Redirect to product pages
Setting a goal will give you an idea of what kind of questions you're going to ask and how you'll apply points. It can also inform what action you want quiz takers to perform upon completion.
2. Pick a topic for your quiz
Once you know why you're making a quiz, you need to decide on the topic of your quiz.
Lead capture quizzes can focus on anything your target audience is interested in, whether it's hobbies, entertainment, or the performance of their job role.
This is very much the same for employee and customer engagement quizzes, where your aim is to interact with respondents and build relationships.
Other types of quizzes will have a more limited range of topics to choose from. For example, product recommendation quizzes will be focused on different skills, actions, or interests that will eventually result in your recommending your product or service to quiz takers.
Compliance and standards quizzes are even more focused, where the testing knowledge of these practices is both the topic and goal of the quiz.
3. Write your quiz questions
Before you start writing quiz questions, you'll need to research your quiz topic in detail. It's important to be as much as an expert as your quiz takers are expected to be. Only then can you add questions to your quiz.
If your questions are surface-level or if your answer options are incorrect, quiz takers may well lose trust in you or your brand. Asking questions that really test people's knowledge is what keeps engagement high.
Of course, you want to avoid going too far in the other direction. Creating a quiz that's impossible to complete isn't very fun, you need to give them some wins to keep them interested.
The best (and most tried-and-tested) format is to start with some easy questions to get momentum going. Then gradually increase the difficulty of the questions as they move through your quiz.
It's absolutely essential that your questions and clear and concise. You aren't testing a respondent's ability to understand a question, just their knowledge.
Once all of the questions are compiled, it's time to test them out and make any necessary adjustments. You don't want to ask too many questions, as fun as interactive quizzes can be there is a limit on the patience people have.
We'd recommend no more than 40 questions to keep the quiz under 10 minutes, but even this is excessive.
Preferably, your quiz will be a lot shorter than this as it's meant to be fun and engaging for quiz takers. So, aim for a 2 minute completion time, which would be around 8-10 quiz questions.
What question types should be used in your quiz?
For the most part, online quizzes are made up of multiple-choice question types. But, that doesn't mean you can spruce it up a little bit.
We'd recommend using some picture-choice question types as well, which will boost engagement and make your quiz that little bit more interactive.
4. Apply points to your quiz questions
This is the simplest step when it comes to creating an interactive quiz. Any quiz builder will allow you to apply points to questions, either by setting a numeric score or marking them as correct.
Ensure you've always selected at least one correct answer choice, it could be a little embarrassing if a quiz taker spots that you've missed one.
If you're running a personality quiz, then you'll need to think a little harder about how points are applied. This is because you'll likely want to show custom text based on scores.
For example, a certain personality type would only be shown if a respondent scores within a certain range, and you also want to ensure there is no overlap.
5. Make your quiz design pop
The design of your quiz is equally as important as your questions. It has to really pop to keep so people are engaged from the moment it opens in their browser.
A quiz with a poor visual design will only compound the boredom that people may feel when responding to any survey or quiz.
Use customization tools to add relevant images, branded or complementary colors, and fonts that make your quiz differ from the thousands of others out there.
6. Set an outcome for quiz completion
We've already covered that when learning how to create an interactive quiz you need to have a goal in mind. But, you also have to set an outcome or reward for your quiz takers. Most commonly, this is simply displaying quiz results to those who have completed your quiz.
However, if you also promised something to quiz takers, such as a reward or gated content, this is the time to deliver it.
There are quiz creators (like Shout) that allow you to display custom messages to quiz takers upon completion. Which is perfect for personality tests or other quizzes that require personalized feedback.
This also makes grading education quizzes simple, as all feedback and areas for improvement can be given in these messages.
Alternatively, you could end your quiz by redirecting respondents to a product page, blog content, or another landing page to drive conversions.
Wrapping up
Creating a quiz may be simple, but you need to be mindful of your aim. Do you want to simply give your quiz takers a score and let them go?
Or do you want to create a more engaging experience that drives conversion? There are numerous ways to do both, so experiment and see what works best for your quiz.
Of course, there are many other lead magnets you can use alongside online quizzes to help you drive conversions. But these are one of the most engaging ways to do so.
If you have any tips on how to create an interactive quiz, get in touch with us and we'll add your ideas to this article.